Vettel takes pole position in Monte Carlo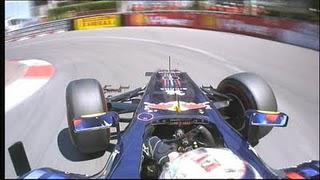 Sebastian  Vettel's fifth pole position in the sixth race in 2011
Sebastian Vettel starts Sunday's race from pole position after setting the fastest time of the whole weekend. Jenson Button is second on the grid, 0.441 seconds behind Vettel and just 0.022 seconds in front of Mark Webber.
The final qualifying session being red-flagged after Sergio Perez's accident helped Michael Schumacher take fifth place on the grid, because Felipe Massa, Lewis Hamilton and Nico Rosberg had to abandon their fast laps and could not continue where they left off after the restart.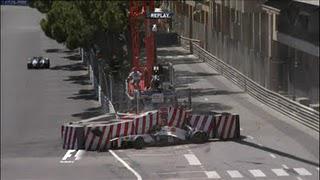 Mighty impact by Sergio Perez out of the Monte Carlo tunnel
The qualifying in Monte Carlo was overshadowed by a heavy accident from Mexican Sergio Perez a couple of minutes before the end. After the accident he was transported to the medical center for further tests. His exact state is unknown at present
All drivers who participated in qualifying were able to stay within the 107 percent time of 1:20.471. Hispania  did not get their cars ready in time for qualifying, whether they can take place in Sunday's race the stewards will have to decide.
Qualifying - final results
Pos.DriverNat.TeamQ1Q2Q3Gap
1Sebastian VettelGermanRed Bull1:15.6061:14.2771:13.556
2Jenson ButtonBritishMcLaren1:15.3971:14.5451:13.997+0.441
3Mark WebberAustralianRed Bull1:16.0871:14.7421:14.019+0.463
4Fernando AlonsoSpanishFerrari1:16.0511:14.5691:14.483+0.927
5Michael SchumacherGermanMercedes1:16.0921:14.9811:14.682+1.126
6Felipe MassaBrazilianFerrari1:16.3091:14.6481:14.877+1.321
7Lewis HamiltonBritishMcLaren1:15.2071:14.2751:15.280+1.724
8Nico RosbergGermanMercedes1:15.8581:14.7411:15.766+2.210
9Pastor MaldonadoVenezuelanWilliams1:15.8191:15.5451:16.528+2.972
10Sergio PerezMexicanSauber1:15.9181:15.482no time set
11Vitaly PetrovRussianLotus Renault1:16.3781:15.815+1.540
12Rubens BarrichelloBrazilianWilliams1:16.8071:15.826+1.551
13Kamui KobayashiJapaneseSauber1:16.5131:15.973+1.698
14Paul di RestaScottishForce India1:16.8131:16.118+1.843
15Adrian SutilGermanForce India1:16.6001:16.121+1.846
16Nick HeidfeldGermanLotus Renault1:16.6811:16.214+1.939
17Paul di RestaScottishForce India1:16.813+1.606
18Heikki KovalainenFinnishTeam Lotus1:17.343+2.136
19Jarno TrulliItalianTeam Lotus1:17.381+2.174
20Jaime AlguersuariSpanishToro Rosso1:17.820+2.613
21Timo GlockGermanVirgin1:17.914+2.707
22Jerome D'AmbrosioBelgianVirgin1:18.736+3.529
23Narain KarthikeyanIndianHispaniano time set
24Vitantonio LiuzziItalianHispaniano time set

Related Articles
And the Winner Is...

Hamilton or Button?

Estimated Pecking Order for 2011
You can have a look at the archive for a list of all articles