Vettel keeps Hamilton at bay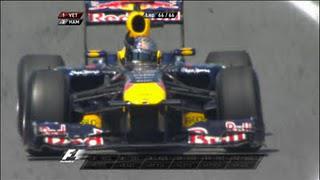 Hard earned victory for Sebastian Vettel in Barcelona
In a very close battle between Sebastian Vettel and Lewis Hamilton the German kept his nerve and secured his forth victory in the fifth grand prix of the season. Even though Vettel, due to technical issues, could hardly use his KERS button, the DRS on Hamilton's car just made it possible for the Briton to get right at Vettel's tail down into the first corner, without bringing the him into an overtaking position.
Nevertheless was it a great race for Hamilton, who, after losing a position at the start, came back strongly to almost win the grand prix. A great race we also saw from Jenson Button, whose three stop strategy worked out beautifully and he finished third, keeping Mark Webber behind in the closing stages of the grand prix.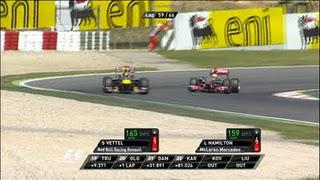 Close fight down to the wire between Vettel and Hamilton
Fernando Alonso started furiously, overtaking three cars in front of him to take the lead of the race in the early stages of the grand prix. Later on, he could not get the pace of the Red Bulls and the McLarens and finished fifth.
Micheal Schumacher, like Alonso, did a tremendous start and slotted in in sixth position, which he maintained until the end of the race. Even though teammate Nico Rosberg looked the faster of the two Mercedes drivers overall, Schumacher, as the better positioned of the Mercedes cars, got the undercut by doing all of his four pit stops earlier than Rosberg.
Nick Heidfeld's eighth place is a good example for how crucial tyre saving is in 2011. Due to his accident in practice 3 on Saturday he could not take place in qualifying, thus saving all of his tyres. This enabled him to get from the back of the field up into the points.
Sauber drivers Sergio Perez and Kamui Kobayashi secured the remaining positions within the points.
See the championship standings here.
Barcelona race - final results



Pos.DriverNat.TeamTime/GapLapsPs

1Sebastian VettelGermanRed Bull1:39.03.301664

2Lewis HamiltonBritishMcLaren+0.630664

3Jenson ButtonBritishMcLaren+35.697663

4Mark WebberAustralianRed Bull+47.966664

5Fernando AlonsoSpanishFerrari+1L654

6Michael SchumacherGermanMercedes+1L653

7Nico RosbergGermanMercedes+1L653

8Nick HeidfeldGermanLotus Renault+1L653

9Sergio PerezMexicanSauber+1L653

10Kamui KobayashiJapaneseSauber+1L653

11Vitaly PetrovRussianLotus Renault+1L653

12Paul di RestaScottishForce India+1L653

13Adrian SutilGermanForce India+1L653

14Sebastien BuemiSwissToro Rosso+1L653

15Pastor MaldonadoVenezuelanWilliams+2L644

16Jaime AlguersuariSpanishToro Rosso+2L644

17Rubens BarrichelloBrazilianWilliams+2L644

18Jarno TrulliItalianTeam Lotus+3L643

19Timo GlockGermanVirgin+4L633

20Jerome D'AmbrosioBelgianVirgin+5L623

21Narian KarthikeyanIndianHispania+8L613

22Felipe MassaBrazilianFerrari583

RETHeikki KovalainenFinnishTeam Lotus483

RETVitantonio LiuzziItalianHispania281





RET...retired




Related Articles
Barcelona - Qualifying

Barcelona - Practice 3

Barcelona - Practice 2

Barcelona - Practice 1

And the Winner Is...

Hamilton or Button?

Estimated Pecking Order for 2011
You can have a look at the archive for a list of all articles