What Books Have A Naughty School Girl In Them? Asks a mom today;
HELP! Its World book day at my kids school on Friday and my 9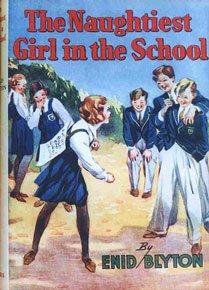 year old has no dressing up clothes that fit her anymore, so I am going to dress her as a school girl/naughty school girl  but what book could this be from?
What Books Have A Naughty School Girl In Them?
The Naughtiest Girl in the School by Enid Blyton
Minnie The Minx – Beano
Saint Trinians
 Tracy Beaker
World Book Day is a celebration! It's a celebration of authors, illustrators, books and (most importantly) it's a celebration of reading. In fact, it's the biggest celebration of its kind, designated by UNESCO as a worldwide celebration of books and reading, and marked in over 100 countries all over the world.
This is the 16th year there's been a World Book Day, and on 7th March children of all ages will come together to appreciate reading. Very loudly and very happily. The main aim of World Book Day in the UK and Ireland is to encourage children to explore the pleasures of books and reading by providing them with the opportunity to have a book of their own.
Can you think of any more?
What Books Have A Naughty School Girl In Them?