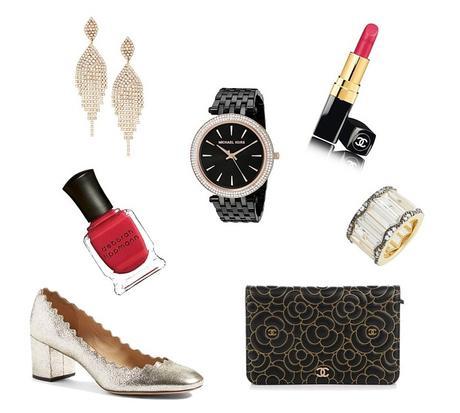 Thank you for all of the lovely comments on the last post. I hope you had a nice Christmas and/or Hanukkah! We went out for a yummy Italian dinner on Saturday night, which included a fabulous Seven Fishes risotto dish. Yesterday was a quiet day at home, very relaxing. This week we'll be prepping for our annual New Year's Eve gathering.
Do you have plans for New Year's Eve? Still sorting out what to wear? Short of Black Tie events, my strategy is to stick with simple separates (or you can go with a dress if they're more your thing) and let accessories do the heavy lifting to create a look.
Swanky Soirée…
earrings | watch | lips | nails | ring | shoes | bag
Above I've put together a black and gold themed accessories "beauty bundle." This grouping would work with most neutral colors as well as with red, jewel tones, and animal prints. I think the trick with more sparkly or statement pieces is not to overdo it. Options:

Turn on your JavaScript to view content
It's Casual…
If your event is more low-key and too much sparkle feels like overkill, soft or muted metallics can do the trick.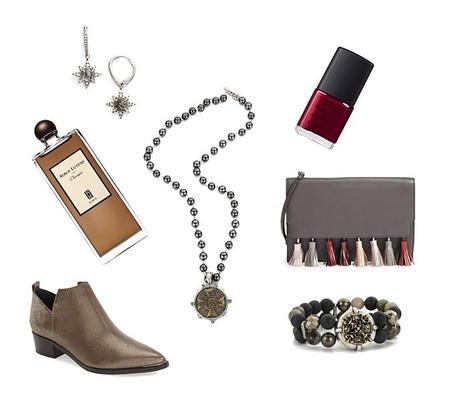 earrings | nails | fragrance | necklace | bag | boots | bracelet
More like these:

Turn on your JavaScript to view content
I also wanted to mention that Nordstrom is having their Half Yearly Sale. If there are any Eileen Fisher pieces you've had your eye on, it's worth checking out as there are quite a few marked down.
Talbot's is also having a Semi-Annual Sale, up to 60% off.