When the Invitation Says "Casual, But Wear Something Pretty..."
We'd been invited to a party in Palm Springs to celebrate the recent wedding of le Monsieur's uncle. I knew it would be an arty crowd (he's an artist) and that it would probably be hot. We were driving out and back the same day (2+ hours each way), so I wanted to be comfortable.
These pants were the perfect choice. The silk fabric is gossamer-light, and the loose enough to allow air flow. The print is festive but not overpowering. (They're the ones from Momoni I bought on my shopping excursion in Paris.) When we arrived the light was so nice we stopped on our way in to the party to take a quick outfit shot. I didn't get closeups of the accessories, so took those at home.
I'd originally included the sweater because I wasn't sure whether the party would be inside or out. If it had been inside, odds were the air-conditioning would have been cranked up and I get chilled easily. But by the time the party started, it had cooled down enough that the linen cardigan was comfortable to wear outside.
The Details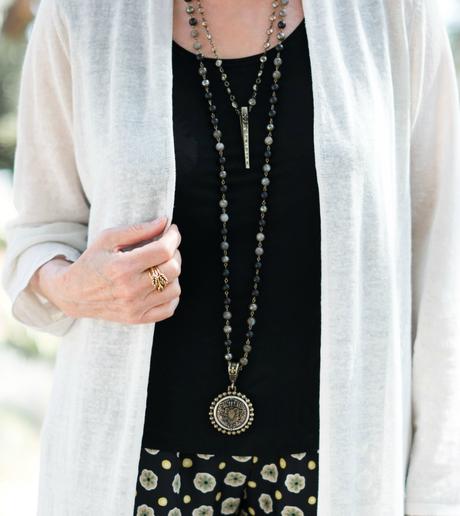 These are two of my favorite French Kande necklaces from prior collections. (I've just received one from the new "Chatelet" collection I'll be showing you soon.) I love how these necklaces work together, and thought they coordinated nicely with the pants. The ring is from Aurelie Bidermann, and was another Paris purchase.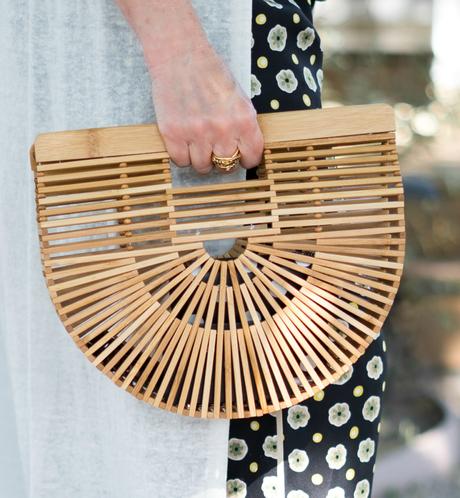 This bag is turning out to be a real Hero Piece in my summer accessories collection. It adds visual interest without competing with other pieces in the outfit. Many of you have mentioned that you had something similar back in the 1970's; I think I did too. (A couple of more budget-friendly options HERE and HERE.)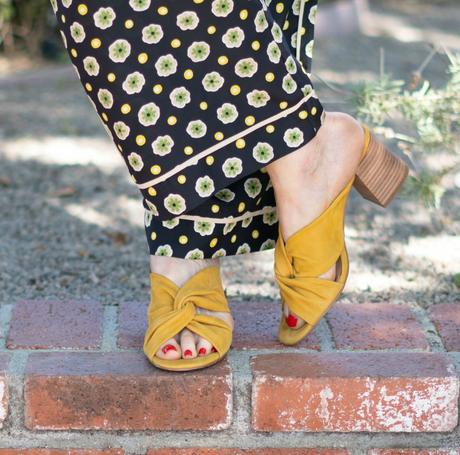 I loved the look of these sandals, but was a little worried the heel might be too high for comfort. While they aren't shoes I'd walk all day in, they were perfectly comfortable for this type of event (backyard party). I LOVE the mustard color, both with these pants and with jeans. I think they'd also look great with this season's rusty hues. You'll be seeing more of these shoes in future outfit posts.
The celebration itself was such a warm and joyous occasion. One of the grooms is in his 70's, the other in his 60's, and it was obvious that they're very much in love. Unfortunately we had to leave to drive home just as the music was getting started (the party hosts are blues musicians) but we were grateful to have been a part of their special day.
More Like These...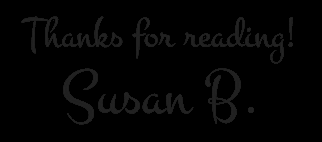 Affiliate links in posts may generate commissions for unefemme.net. See my complete disclosure policy here.