THIS IS IT, THE LAST POST UNTIL 9/3! WWTM is heading out on vacation  Still want a fix? Check the Facebook Page or Twitter during the break...ya never know when I'll feel the urge!  There will not be any e-mail blasts until Tuesday 9/3.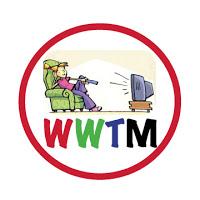 The answer to Thursday's Trivia Question:  Ryan Seacrest will be hosting NBC's Million Second Quiz
FIRST FIVES:  Karen Feldman, Bobby Aguilera, Sue McNamara, Michael O'Dea & Heather Doyle Honorable Mention: Debra Kaufman
For all of you awesome Big Brother fans who knew the answer to the bonus trivia question, Good Job! The first BB alliance with a name was Will and Boogie's "Chilltown" alliance.
Wednesday's Broadcast Top 5 MasterChef-FOX 2.2/5.3 Americas Got Talent- NBC 2.1/9.2 Big Brother-CBS 2.0/5.9 CSI-CBS 1.5/6.1 Americas Got Talent-NBC 1.3/5.7
Wednesday's Broadcast Trendrr Top 5 Big Brother-CBS 85,684 Americas Got Talent-NBC 67,883 Futbol Amistoso Internaional- Multiple Nets- 53,195 MasterChef-FOX 45,324 WWE- ION 21,508 Wednesday's Cable Top 5 Duck Dynasty-A&E 5.0/11.7  Yes! You are reading those numbers correctly
Duck Dynasty-A&E 1.7/4.3
The Big Bang Theory-TBS 1.4/3.3
Bad Ink-A&E 1.2/3.3
American Dad-Adult Swim .9/2.1
Wednesday's Cable Trendrr Top 5
Duck Dynasty-A&E 451,529 International Soccer- ESPN2 55,482 Royal Pains-USA 35,833 Here Comes Honey Boo Boo- TLC 31,379 The Challenge: Rivals-MTV 21,975
Late Night Ratings for the week of 8/5/13-8/9/13
Leno .9/3.8 Kimmel .6/2.2 The Daily Show .6/1.4
Letterman .5/2.2
Fallon .5/1.8 Colbert .5/1.2 Conan .4/.9
Nightline .3/1.4 Ferguson .3/1.1 Carson .3/.9
Early Morning Ratings for the week of  8/5/13-8/9/13
GMA-1.6/1.8
Today Show-1.4/1.6
CBS This Morning-.7/.8
Big Brother Bullets
Julie's hair looked great but she was wearing a potato sack. LES, GET HER A NEW STYLIST! 
I appreciated Jessie's  paranoia and her determination to stir the house up big time. She knew she was leaving and figured she'd go out with a bang...gumption and good TV
Did Elissa say "Bestie's?"  I think she did referring to Andy and Helen. Do adults say that? 
Amanda always stirs the pot, so it figured she would try to get Helen and Jessie to go at each other and they did!
The Aaryn/GM had me laughing out loud.  Ridiculous. 
Loved how BB showed the clip of Helen, Elissa and Jessie from 11 days ago plotting to get Amanda out of the house and then Helen saying "I have no recollection of that". OMG I was yelling at my TV at Helen! LIAR!
First Aaryn brought us the BUNdana, last night it was the BRAIDana. I personally like the BRAIDana better. 
I finally figured out who Andy reminds me of...a Ginger Matthew Broderick right?
I don't think Matthew Broderick would borrow any of Andy's clothes though, especially the tank tops. 
During the live show, Aaryn's eyebrows, were much darker than they were Wednesday night and it made me nuts, but worse were GM's overly reflective nerdy glasses. 
Andy has cried after every single person has left the house, but he never cries when he looks at himself in those tank tops...he will when he gets out of the house and watches all of these episodes.
Aaryn and her eyebrows won their 4th HOH
HUGE TWIST next week...the 4 members of the jury will be competing to come back into the house!  Hoping its Judd.
NEWS & INFORMATION:
-MTV renewed The Real World for its 29th season and they will be returning to San Francisco to celebrate.  The scary thing is, I watched the very first season of The Real World. The last season I watched was Las Vegas with Trishelle the slutty chick.  Then I gave it all up.  
-As you can see from the ratings above...Duck Dynasty's season premiere on Wednesday night was a record breaker. WHAT AM I MISSING? The show delivered a 5.0 RA18-49 and nearly 12 million viewers tuned in. This is actually a record. DD became the number 1 non-fiction cable series EVER! DUCK DYNASTY!  
-TNT renewed Rizzoli & Isles for a 5th season, and Major Crimes and Perception for a 3rd season. None of which I've ever watched. 
-Next week, while I'm on vacation is the MTV VMA's. Knowing me, I probably will just HAVE to post something, I wish I knew how to live blog or live tweet or something, I'd totally do that. Could be fun especially since I'll have had a few cocktails in me.  Anyway, check the Facebook Page and the Twitter feed in case I figure it out.  Justin Timberlake will be performing and receiving the Michael Jackson Video Vanguard Award, plus, Robin Thicke, Miley Cyrus, my boys, One Direction and Katy Perry will all perform and there's always big surprises, inappropriate outfits and more. I'm looking forward to it. 
-A couple of good charts from Mashable today. Americans spend more time on Social Networks than anything else online, but what do you think OTHER is? 
1) Americans spent an average of 37 minutes a day on social networks
2) 33 minutes a day on email
3) 24 minutes a day on Online Video
4) 22 minutes a day Searching
5) 17 minutes a day online gaming
6) 7 minutes a day blogging (I spend WAY more time on my blog than that)
7) 6 minutes a day on online radio
8) 6 minutes a day on online newspapers
9) 3 minutes a day on online magazines
10) 31 minutes a day on other...OTHER? Is OTHER PORN? Other is 2nd!  
-And the number one Smartphone as of 2Q 2013 is...
1) Apple with 40%
2) Samsung with 24.7%
3) HTC with 9.4%
4) Motorola with 9%
5) LG 7%
6) Blackberry 3%
7) Nokia 1.2%
8) Huawei 1.0% WHO?
9) Other...OTHER?  Who's left?
-Andy Cohen is blowing off hosting the Miss Universe Pageant with Olive Oyl, I mean Giuliana Rancic.  This year they are being held in Russia and you know who they feel about the Gay community so Andy's not going.  Good for you Andy Cohen!  I won't watch it either (don't get to excited, I never watched it...not really in to pageants of any kind).  -I'm REALLY sick of Oprah on the talk show circuit. She's out promoting Lee Daniels' The Butler (the title had me stumped until a few of my Facebook friends set me straight...Lee isn't the name of the butler...he's the director) and she's bugging me BUT, she was AWESOME on Watch What Happens Live Wednesday night and Andy was awesome with her. So Congrats Andy Cohen...you rock!  -For all of you on the Orange is the New Black bandwagon (and anyone who isn't...you should be). Some news on Season 2...Alex is out but Crazy Eyes and Pennsatucky are in! I'm actually happy with that. I just started the book and will finish it while I'm on vacation.  Can't wait! 
-So sad that Lisa Robin Kelly who played Laurie on That 70's Show died Wednesday night. She apparently had big drug problems for years.  RIP Lisa. 
Friday's Trivia Question: 1 point for every member of the San Francisco Real World Season. I actually got um all! ON MY OWN! WITHOUT CHEATING! 
Have a great few weeks! See Ya in September OR on FACEBOOK OR on TWITTER!
WWTM-Kristy
Like me on Facebook at Watching Way Too Much Follow me on Twitter at watchingwaytoomuch@tvnme
http://watchingwaytoomuch.com
kristy@watchingwaytoomuch.com