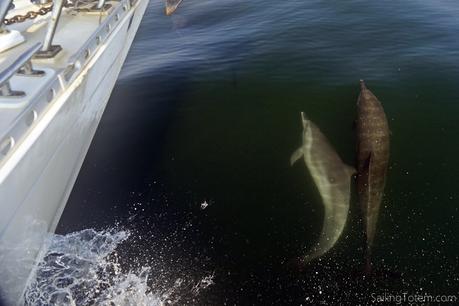 Pausing for reflection at the transition into a new year: living so much in the present, it's worth stopping to draw out significant events that too easily slide into the misty past. Continuous learning is one of the great opportunities of cruising, and a few lessons stand out in 2018.
We didn't screw up homeschooling.
Niall's return to Totem for winter break from Lewis & Clark college confirm he's happily transitioned. I credit him as an individual and not our efforts to direct and shape with homeschooling, in truth, but will let myself wallow in pride and gratitude at his accomplishment in making the changeover from an unstructured nomadic life afloat, to a highly structured academic environment—and thrive.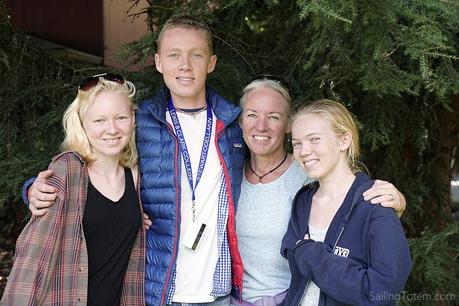 Mexico is just as awesome as we remembered.
Our first year and a half cruising was spent in Mexico, but it was eight years prior; we wondered what it would be like to return after the intervening countries and miles. Turns out it's hard to beat the combination of beautiful coastlines, interesting places to visit, friendly people and general security. We're happy to extend our time here after closing a circ loop in Zihuatenejo last spring!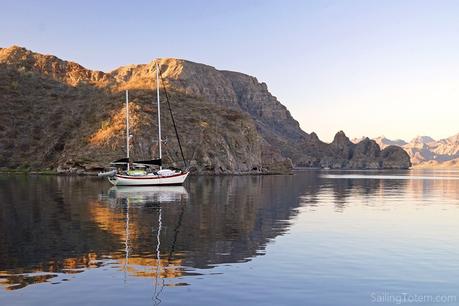 The incredible light of the Sea of Cortez
Inspiring is a gift.
We added more than 50 new coaching clients in our "TRU crew" this year. Amazing! Working as mentors to realize their cruising dream is profoundly fulfilling. Jamie would tell you I'm like a broken record after our calls: "we get to work with the best people!" I'm so happy we have grown a niche to make a difference.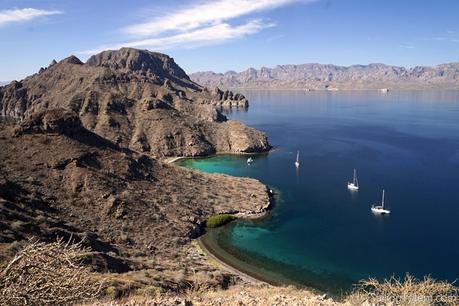 This view was earned with sweat, not drone skills! Isla Danzante
There's hope to normalize cruising.
Appearing on TODAY with Megyn Kelly may land among the most unforgettable experiences we ever have. But it was behind-the-scenes crew that are the real stars, no disrespect to a celebrity interviewer intended. The crew offered us interest, kindness, humility, and grace. From the producer who first reached out, to the reporter and crew in California, to the security guard who knew exactly how to calm a few flickering nerves – they didn't see the freaks, the Weird People, the spectacle of the week… as you might expect from non-boaty crowd. That they sought us out, heard our story, and helped us amplify the gifts offered by this wonderful life afloat gives me hope.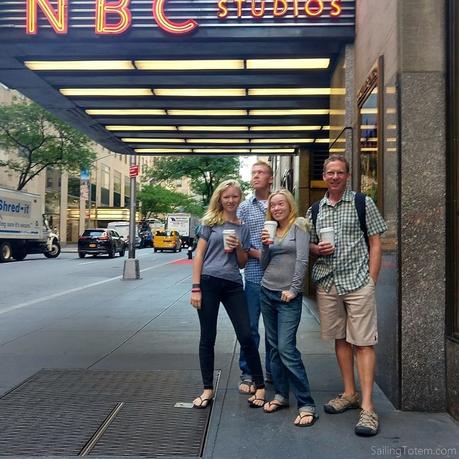 crappy phone pic. way to nervous for more than that!
Sharing the sail is fun.
A spontaneous decision chased by an email resulted in two of our coaching clients joining Totem for a week long passage in December. David and Sam had just closed on the boat that will be their family's magic carpet. They don't have much experience. We didn't need crew. This wasn't a paid gig. It just felt like a cool opportunity to connect something we could offer with something they needed. They were great additions and learned a bunch: Sam's upcoming guest post will share the experience.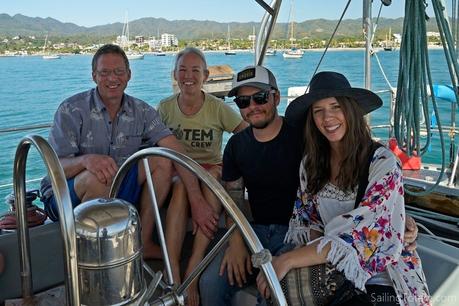 Sam & David before flying home from Puerto Vallarta
Totem's 2018 statistics
We love our statistics, and Jamie's database makes metrics for the year easy to grab! Here's another dimension to a great turn around the sun.
Countries visited: 5. OK, so you can do that in a couple of days in the Caribbean. We might have added four more, but sailed from Costa Rica to Mexico without visiting intermediary countries. Something to fix in future years.
Days on passage: 20. We count a "passage day" if we were underway at midnight. Most of this happened as we legged our way north from the Panama Canal to the northern Sea of Cortez between mid-March and mid-June.
Anchoring depths: our deepest spot in Panama's San Blas islands was 65', exactly half our deepest ever (Maldives in 2015); the average was around 26'.
Distance traveled: 4,916 nautical miles (5,657 miles). Far from our biggest year, but remarkable in that we spent MOST of this year…not sailing. There were six months in the shipyard, and 43 days at a dock (most of those in Colombia, where anchoring wasn't safe). In the remaining period we averaged about a thousand miles per month: suddenly, it feels like a bigger year for sea time.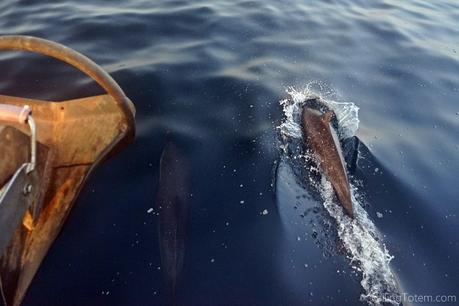 One last lesson
Holy cow, how did I almost neglect this one? On April 7, we learned in a wholly new and internalized way that the earth is in fact round when Totem and crew closed the loop on a circumnavigation in Zihuatenejo, Mexico. 2018: you were one for the memory book!
Totem and crew are southbound in Mexico right now, making plans to head north in a few weeks for the Toronto Boat Show and Seattle Boat Show. Want to learn how to go cruising? Please join us in Seattle for a special extended seminar! Details on the Totem Events page.