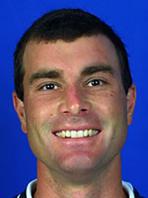 Chris 'Country' Woodruff
Taking out Kuerten in a final during his peak gets Chris into my 'Whatever Happened' series. I hope he gets respect from the Juniors he teaches nowadays!
What are they doing now?: Tennis coach at the University of Tennessee
Career titles: 2
Win/Loss Record: 109/104
Career High Ranking: 29 (1997)
Finest moment: In 1997 compiled best season by winning first ATP Tour title in Montreal, defeating No. 3 Ivanisevic, No. 14 Philippoussis, No. 7 Kafelnikov and No. 13 Kuerten in final. Nice going!
Watch: Woodruff against Kuerten in Montreal 1997