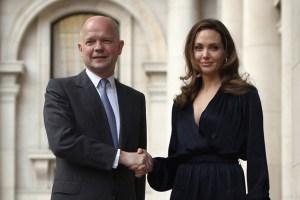 UK Secretary of State for Foreign Affairs William Hague and UN Ambassador of goodwill and Actress Angelina Jolie
They cannot leave the Democratic Republic of Congo [DRC] in peace. Everyone wants a piece of the cake. And everything must be done to get it.
It is Dr. Denis Mukwege who said that when you portray someone negatively, subconsciously your mind is readying itself to create the possibilities of even destroying or killing its target [whatever the objective of such act].
When back in June 2012 a UN Group of Experts pointed again in so many years at Rwanda as the destabilizing factor in Eastern Congo, many partners of the country of Paul Kagame felt that their "good guy" was tarnishing their trust more and more as years passed. He had been blackmailing them since 1994 for their apparent irresponsibility in his country's genocide at the time. They did live with that guilt until.
This time they temporarily suspended aid only to calm their constituencies over the outrage caused by the support that the Rwandan president was providing to the Tutsi Congolese dominated rebel movement M23. There was also the consequent humanitarian crisis in the Kivus the latter instigated when its soldiers mutinied against the FARDC back in March 2012.
Mindset shift
But since the "Terminator" Bosco Ntaganda has now found shelter at The Hague in the hands of ICC, a number of Western countries benefiting from the enduring created chaos in DRC have been on a crusade of devising schemes aimed at delaying the end of the misery for Congolese populations. Firstly, there was the Addis Ababa Peace Security and Cooperation Framework for DRC and the region signed on February 24th ,2013 which has taken away Congo's sovereignty and put the country under a sort of UN mandate. Secondly, there is currently the ongoing campaign to portray the entire Congolese forces as a bunch of rapists.
As we know now, some of the countries and institutions that stopped or temporally suspended aid to Rwanda have today resumed their assistance, arguing that this was not the best option to change the prevailing situation in Eastern Congo, but instead [though not openly stated] because they still needed the hands of the Rwandan president to continue plundering DRC minerals resources on their behalf.
Paul Kagame claimed recently that his country had mineral resources uncovered so far that will need transforming locally. Maybe the Rwandan government could clear doubts from those with evidence showing that, it that transformation had ever to happen today, it would primarily be that of minerals that have been persistently stolen from the neighboring Congo.
"We are continuing with that and concentrating on the progress we're making. But we've also discovered mining in Rwanda. We have more resources than we knew we had. So that's an area that brings in money. And the services industry has been critical. In fact, it is among the leaders contributing to our GDP growth, with huge potential."
Campaign against rape
For the supposed industrialization of Rwanda through transforming [stolen and blood tainted Congolese minerals] to be realized, what we unfortunately experience today in DRC might continue in one way or another. Massive rapes of entire villages have been among strategies used to clear wide areas of indigenous people. As explained by informed observers on the ground, these atrocities are committed by groups of individuals inside and outside the formal administrative structures of a territory.
They can be militias acting on behalf of mining stakeholders including Rwanda and others, but also members of FARDC who came from several phases of integration of militias which in the past were directly accountable to chains of business networks controlled from Kigali and Kampala.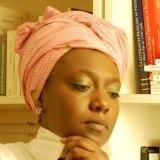 BK Kumbi – Congolese Historian and Activist
On April 11th 2013 William Hague and Angelina Jolie completed an international campaign against rape in warzones. It took them to Rwanda and DRC and ended in London by a pledge from G8 governments for financial support to the initiative. BK Kumbi, Congolese historian and activist based in Switzerland had this to say on what this rape campaign is not unfortunately highlighting:
"Well, I think Angelina Jolie should learn a little bit more about Congo and the real issues that are going on in this part of the world. There is a tragedy, and what she is actually doing is just assuming one side of the story that is decided by western powers. We don't see any good coming out of that. So I think her speech is inside inflaming emotions against Congolese men, and somehow just makes the world forget about the role played by Rwanda in this tragedy."
From the 60s DRC has been and continues to be a target of Western and today many other external interests because of its enormous and varied mineral resources. Strategies to access them have evolved with time and had negative and different consequences on the Congolese populations. Current spin by stakeholders around the campaign against rape is one of them. But Congolese and Africans in general if they unite and stand firmly to defend their interests, they can undoubtedly overcome.