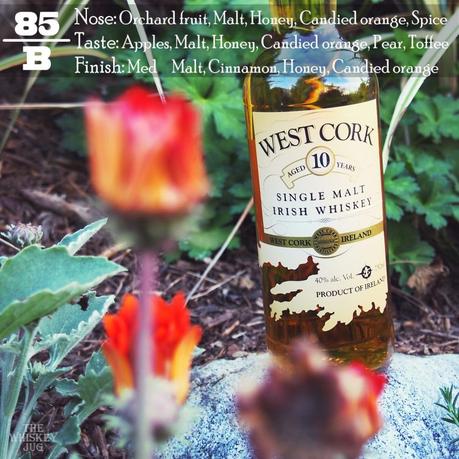 West Cork Single Malt 10 Years is the culmination of nearly 14 years of work by the folks at West Cork… which makes me both happy and sad. Happy to have a new, well aged, Irish single malt on the market makes me quite happy. Having it delivered at a neutered 40% and chill-filtered does not.
In West Cork's Words: West Cork Single Malt 10 Years
"West Cork Irish Whiskey – Ten Year Old Single Malt (40% abv/80 Proof) – is a splendid example of Irish single malts, a category with huge history but often disregarded. West Cork Ten Year Old is prepared from Irish malted barley and pot distilled."
What else can I tell you about West Cork? Well… they triple distill their whiskey so they keep that Irish tradition alive. They malt some of their barley, exclusively use grain grown on Ireland, only employ the use of pot stills – not column stills even in its grain whiskey which might be why it tastes a bit richer than some grain.
West Cork also uses pure spring (not municipal) water. So what does all that add up to? Why it adds up to the West Cork Single Malt 10 Years review… thanks for asking.
West Cork Single Malt 10 Years Info
Region: Ireland
Distiller: West Cork
Mashbill: 100% Malted Barley
Cask: ex-Bourbon
Age: 10 Years
ABV: 40%
Price: $40
West Cork Single Malt 10 Years Review
EYE
Amber
NOSE
Orchard fruit, malt, honey, candied oranges and bit of spice and a slight earthiness. There's also a bit of a waxy fruity candy note to it that reminds me of a box of Mike & Ike's.
PALATE
Apples, malt, honey, candied oranges, pears, toffee and a light bit of spice, graham and melon. A light and basic, but tasty profile.
FINISH
Medium fade of malt, cinnamon, honey candied oranges and melon.
BALANCE, BODY & FEEL
Ok balance, medium body and a soft simple texture.
OVERALL
West Cork Single Malt 10 Years is good. It's nothing special, it won't make you jump with joy or anything, but it's good. The aroma has an all arounds malty-fruity-honied sweet essence to it while the palate is a bit darker. I like when this happens as it keeps things interesting. If it was the exact same experience from aroma to palate it would quickly get boring.
As usual I do wish they had given this whiskey the best possible chance it had to display some depth by giving it a slightly higher proof and delivering it non-chill filtered. I think it really would have helped to give the West Cork Single Malt 10 Years a richer more dynamic character. As is I'll be reaching for it now and then, but I see it mostly going into cocktails.
SCORE: 85/100 (B)