The West Cork Glengarriff Bog Oak Charred Cask started life in ex-Sherry casks and after at least 2 1/2 years resting and maturing there, the whiskey was moved to some unique casks created by West Cork Distillers. To create these unique casks they went to the Glengarriff Forest in West Cork, got some bog oak, set it on fire and charred some barrels with the flames.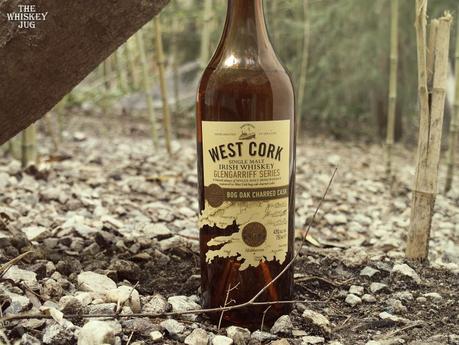 Most modern cooperages use gas-powered jets to char the inside of the barrels, but going this route imbues the barrel with additional elements of flavor and aroma. After their initial maturation in the sherry casks the whiskey was put into these freshly charred barrels to finish for 6 months. We'll see how this unique bottle shakes out in the Irish Whiskey review below... but first I need to make a comment about the label.
If you notice in the image below West Cork has labeled their Glengarriff Bog Oak Charred Cask as cask strength... but it's bottled at a dead even 43%. I sent several emails and tweets to the brand for more info, but no reply. I've also Googled and came up empty-handed. So if anyone knows more about what appears to be a labeling mistake I'd love to know.
*UPDATE: The company reached out after this was posted and let me know that the cask strength designation was indeed a mislabeling.
West Cork Glengarriff Bog Oak Charred Cask Review: Details and Tasting Notes
In West Cork's Words: West Cork Glengarriff Bog Oak Charred Cask
The ancient hills of Glengarriff, West Cork are home to ancient woodland & accompanying bogland. The Glengarriff series of West Cork Irish Whiskey is an august tribute to the historic part of Ireland. Bog Oak from Glengarriff is burned using traditional bellowing techniques to charr the casks and create a truly unique Irish Whiskey.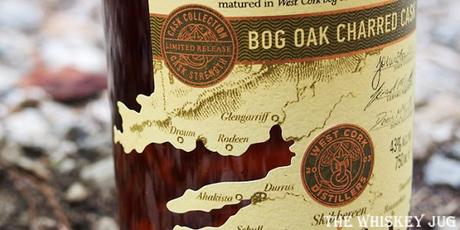 West Cork Glengarriff Bog Oak Charred Cask Review: Details (price, mash bill, cask type, ABV, etc.)
Region: Ireland
Distiller: West Cork Distillers
Mash Bill: 100% Malted Barley
Cask: ex-Sherry, American Oak charred with Bog Oak
Age: NAS (3+ Years)
ABV: 43%
Price: $50
West Cork Glengarriff Bog Oak Charred Cask Review: Tasting Notes
NOSE
Apples, pears, dried apricot, cocoa, malt, spice and a bit of oily char and bismuth.
PALATE
Spiced fruit juice (peach-pear-apricot cider), malt, cocoa, toffee and some oak with bits of oily char and bismuth.
FINISH
Med-Long -> Toffee, malt, cocoa, oak, fruit and a whiff of smoke.
BALANCE, BODY & FEEL
Great sense of balance, round body and an oily feel.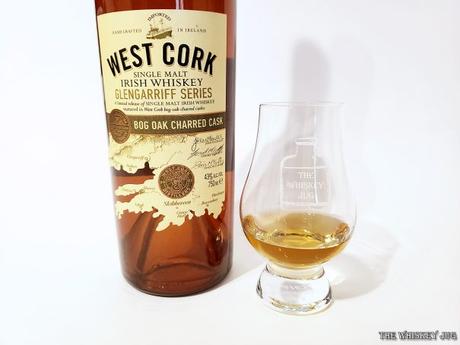 West Cork Glengarriff Bog Oak Charred Cask Review: Overall and Score
This is a weird, but enticing, malt overall and I like it a bit more than their s tandard single malt release. There is an oiliness and heaviness to it that isn't readily found in their traditional releases that give it a lovely chewy meaty quality. The overall character is quite fruity, but it's balanced nicely with spice and that previously mentioned oily heaviness mixed with some darker notes.
Getting into specifics, the aroma is lightly spiced and fruity with some malty sweetness balanced by the darker notes. The palate is more heavily spiced and is overall deeper and darker than the aroma. The finish is nice and picks up some smoke right before it fades out. Put it together and all-in-all I'm enjoying every minute of West Cork Glengarriff Bog Oak Charred Cask.
SCORE: 87/100 (B+)