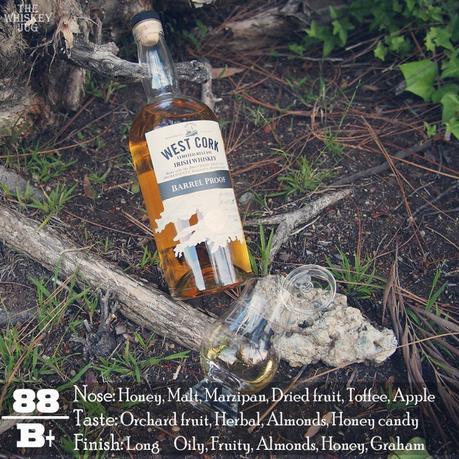 West Cork Barrel Proof is the culmination of 2/3 of my theory about blended Irish whiskey. I've long theorized that if Irish blends were delivered at a higher proof, non chill-filtered and allowed to "marry" for a longer period of time than individually aged it would turn the whiskey into something that far surpassed what we've known as blended Irish Whiskey.
If all three came together I think It would bring something new and revolutionary to the market. I think it would deliver what could be the best possible version of what the blended Irish category could be. Here in the West Cork Barrel Proof we have 2 out of three.
In West Cork's Words: West Cork Barrel Proof
"West Cork Irish Whiskey – Cask Strength (62% abv/124 proof) – is a blended Irish whiskey containing 66% grain Irish whiskey & 33% malt Irish whiskey. Patiently matured in first fill bourbon & then polish matured exhausted Irish whiskey casks to allow marry for a further 6 months. This marrying process allows the malt and grain whiskeys further mature and interact to produce a cask strength released of unique smoothness."
Higher proof and non-chill filtered means we get all the lovely oils and a natural delivery with no water added. We're getting to taste an Irish blend exactly as it after blending the casks. Needless to say I was quite excited to dig into this which we'll do right now in the West Cork Barrel Proof review below.
West Cork Barrel Proof Info
Region: West Cork, Ireland
Distiller: West Cork Distillers
Mashbill: 66% Grain Whiskey + 33% Single Malt
Cask: ex-Bourbon (first fill) & ex-Bourbon (used)
Age: NAS (at least 3 years)
ABV: 62%
Price: $46
West Cork Barrel Proof Review
EYE
Honey
NOSE
Honey, malt, marzipan, dried fruit, toffee and a bit of apple juice, vanilla and banana. It's a rich oily and heavy aroma.
PALATE
Orchard fruit, herbal, almonds, honey candy, dried banana, dried apples and a bit of malt, vanilla and toffee. Oh yeah!
FINISH
Long oily and fruity fade layered with almonds, honey, graham and malt.
BALANCE, BODY & FEEL
Great balance, full body and oily thick feel.
OVERALL
I knew it! High proofed, NCF Irish blends are great and this West Cork Barrel Proof is proof of that. The high proof and NCF delivery present a whiskey that comes across more like a single malt with its depth of flavors and aromas. A bit of water brings out more herbal and vanilla notes on all fronts on top of that traditional Irish profile of honied fruit which itself comes through with a deeper richer delivery than you get with a neutered delivery.
Last year I talked a lot about how the category needs a bit of a shake up and needs to start embracing some of the things whiskey geeks look for in whiskey like a more natural delivery and this definitely fits the bill. The only thing I could want more from something like the West Cork Barrel Proof is more age. I know they're a young distillery, but imagine how amazing a 7 year version of the West Cork Barrel Proof would be, especially if 4 of those years were spent "marrying" the grain and malt. Something to think about West Cork.
SCORE: 88/100 (B+)
*Disclosure: This West Cork Barrel Proof was graciously sent to me by the company for the purposes of this review. The views, opinions, and tasting notes are 100% my own.