Getting my life, I made things happen for once during October 2021! Firmly on my way to West Bromwich, I am sure 'Baga' would cringe but I was finally ready to see her true hometown. Of course, this was a secret situation! I was ready for that European taste test. Pinching pennies? I wanted it all! Would I find beetroot soup, artisan cakes, Soplica and pierogi? Tak oczywiście, W!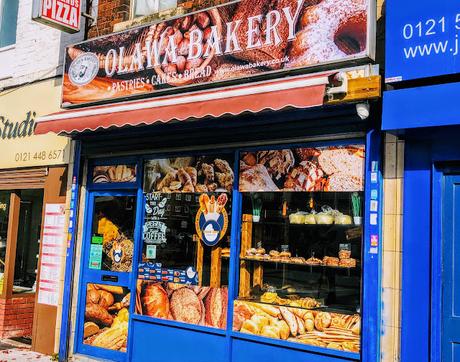 Casting my mind back to June 2021, I had plans to spend the day and night in Birmingham but the West Midlands Metro acted the fool! Taking the 79 bus to West Bromwich before changing to the 74 that was bound for Birmingham had me questioning the scenery. Passing 'Olawa Bakery' totally wasn't part of the plan but destiny had me taking more than a second hurried glance backwards. Carters Green would be part of my West Bromwich comeback trip, when that would be, that I couldn't yet answer. It never occurred to me how delicious those Olawa bought cakes would turn out to taste, I truly knew in my heart that a return visit had to take place! Fast forward to October 2021, some months had passed since that summertime public transport moment. Taking the 79 bus from Bilston to West Bromwich had to be done, I had allowed an adequate amount of time to pass me by, no longer would that be the case! No! Secret safe with me, I made the short journey from my 01902 location to West Brom's 0121 area code. Chodźmy! 
Taking my reusable shopping bag, I honestly meant business! Buying three different Polish cakes had to be done, I had wanted to try some pierogi but it wasn't meant to be. Instead, I had a slice of mushroom pizza, taste wise I wasn't disappointed! Walking towards West Bromwich town center I found 'SKLEP Europa' where I bagged a bargain, snapping up two medium sized bottles of Soplica had to be done. During Christmas 2020, myself, my Mum and Step-Dad had all enjoyed shot of it! With that being his final Christmas before he passed in the spring of 2021, I wanted to make a toast to him with a glass of that Polish hazelnut liquor! Wanting pierogi, I wasn't prepared to leave West Bromwich without finding some! Popping into 'WB Zabka' was like entering an Eastern European 'ALDI!' I managed to find some pierogi, minty apple juice, sachets of instant 'Barszcz Czerwony' and a Romanian marble cake. Absolutely, I felt very accomplished during that Eastern European shopping experience in West Bromwich! Tak, WB!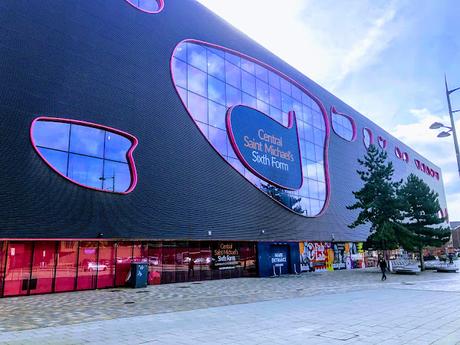 No longer could I say 'dzień dobry', the afternoon had arrived in West Bromwich! Considering I was only a short distance away from my hometown, things felt very international indeed! I mentioned 'Baga' during the introduction, had she originated from a town like my own? That was the burning question? Star of RuPaul's Drag Race UK, Series 1, 'Baga Chipz' had told me via an Instagram DM that West Bromwich would have nothing to offer me! I wasn't about to take that as my final answer because we all know people who make in the big city tend to be from towns like 'Baga' being West Bromwich. With the 'Babi Girls' hometown a known secret, I wanted to visit West Bromwich to see what it had to offer me. Would 'Baga Chipz' be wrong to say that her hometown wouldn't leave me feeling 'Much Betta?' Sure, I wanted to be the judge of that, would Bromwich not be for turning? Don't be fooled by 'Baga's' 'Hometown Look' that she did during her series because she's from the Birmingham area. West Bromwich was shooketh! 
Captured above stood 'Central Saint Micahel's Sixth Form' that educational concept had recused the former public space that was meant to be an art gallery type of experience. 'The Public' had been set up to fail before it had even been completed, with so much uncertainty it became quite the bug bare for West Bromwich rather than a landmark destination for the town. As I left the Polish infused section of the High Street in West Bromwich's town centre, I stumbled upon the current 'college' building that the town had to live with. Many saw 'The Public' as a colossal waste of money, but in present day view and purpose, the college inside had been the saving grace for sure. In that spirit, I admired the battle that West Bromwich had faced during that period of limbo with the failed art project, it had to make some kind of comeback, surely? Like the underdog, I like to back and support those places that get left behind, those places that are forgotten entirely. It had become quite clear to me, 'Baga' had a valid point! Oh, Babi Bromwich!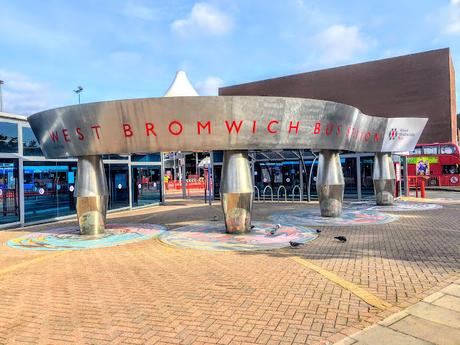 Countless times before on the West Midlands Metro, I would sure pass West Bromwich Central that's along Line One. Without any thought, during that June bus changeover, for the first ever I saw that approaching view from the opposite side. Changing buses during that 2021 June moment wasn't difficult, maybe I got a bit confused with the lettering for the 74 bus to Birmingham. Second time around during that October month, I found the correct bus stand without any issues. The sights that overlooked the bus station reminded me of my early morning commute from Newark Penn Station to the airport back in 2012, lets just say the category wasn't very Kosher! No! I lived for that energy, keeping things at more than arms length I sensed as to why 'Baga Chipz' had quit West Bromwich for the lights of London! From those pavement arrests she must have thought that joining the Buffalo Girls was a blessing? My interaction with the bus station in West Bromwich was harmless, the sights and sounds kept me on my toes! Oh! 
Taking the bus back home, I felt very content with my purchases! I had my Soplica, of course those bottles would be enjoyed and appreciated very much indeed! I would take great care to gift one of my Polish cakes from 'Olawa Bakery' to my Maternal Grandparents because they are forever baking cakes for the family and never for themselves to enjoy. My Romanian marble cake would definitely be enjoyed with a pot or two of tea in the week, that was a dead cert! Of course, with being on my feet I had almost finished my carton of Polish minty apple juice before I reached home. I did my best to challenge 'Baga's' suggestions, her hometown sure served something different and for the better! Being a bus taker that day, I definitely would take the two buses from Darlaston to Birmingham via West Bromwich again because the views through Sandwell from the bus have an international flare to them. Yes, West Bromwich served me three winning elements, I won't have anything untoward said about that on my watch! Dziękuję, WB! 
Very Very 'Arsh! 
Joseph Harrison