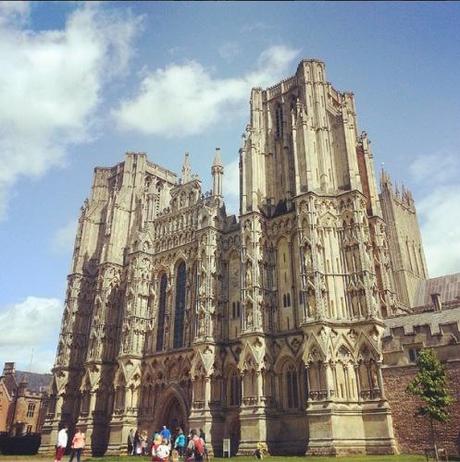 I don't usually post very much about Medieval history here but due to getting really into the research for my sixteenth century novel (which has led me WAY back into the fascinating and often surprising French family tree of Mary Queen of Scots) and also FINALLY reading Helen Castor's superb and completely gripping She-Wolves: The Women Who Ruled England Before Elizabeth, which is just so brilliant that I can't BELIEVE that it's taken me so long to read it, I have been on a little bit of a Medieval kick lately and what better way to indulge this than with a trip to one of the most fabulous examples of Medieval ecclesiastical architecture, which just happens to be a pretty short drive away from Bristol?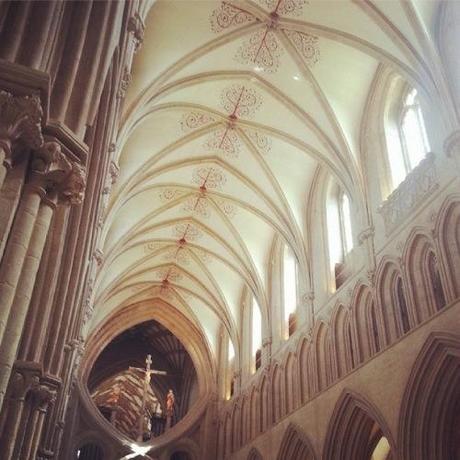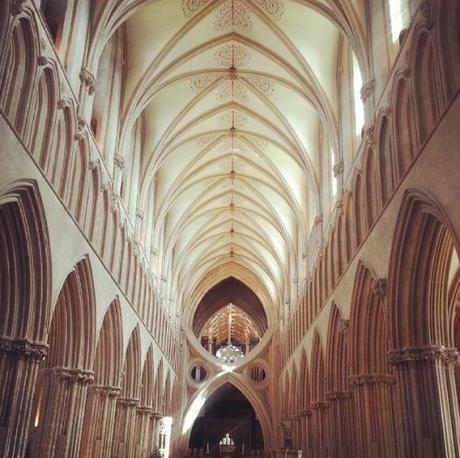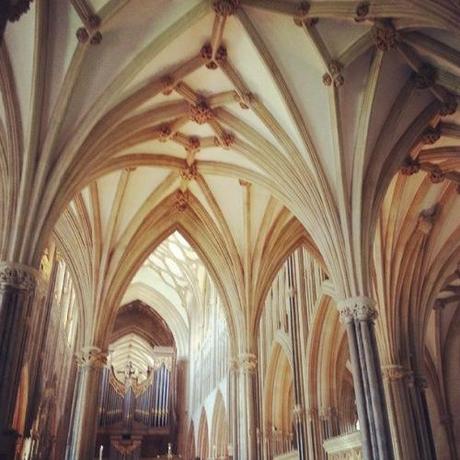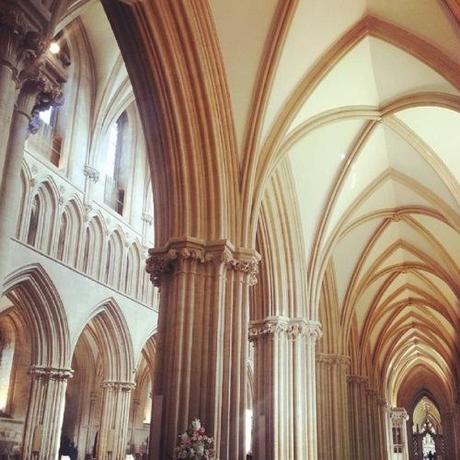 All photos: Melanie Clegg, 2014.
I'll admit now that I don't usually enjoy our trips to Wells, finding the town a bit stuffy and dull but I had a lovely time visiting it last weekend, probably because I was in just the right mood for a spot of idle wandering around (which isn't usually my thing) and also, for the first time, decided to actually step inside the cathedral rather than just stand outside gawping up at it in amazement.
I can't believe actually that this was the first time I'd actually ventured inside Wells Cathedral as it's completely beautiful inside. Built between 1175 and 1490, we can only imagine the sights and tales that impressive façade have witnessed over the centuries and the tales that it could tell if it could only speak.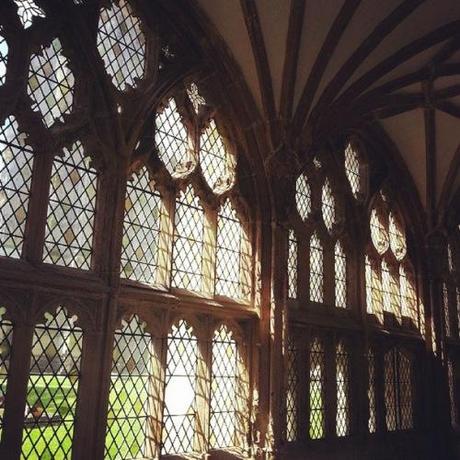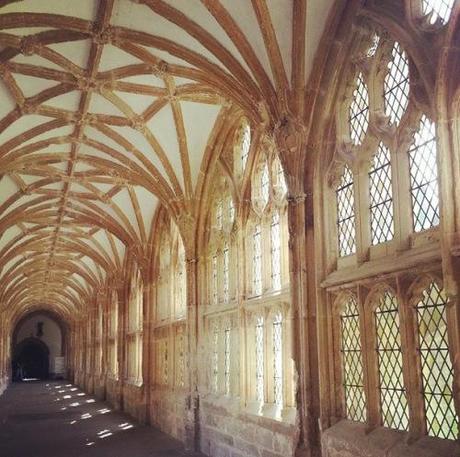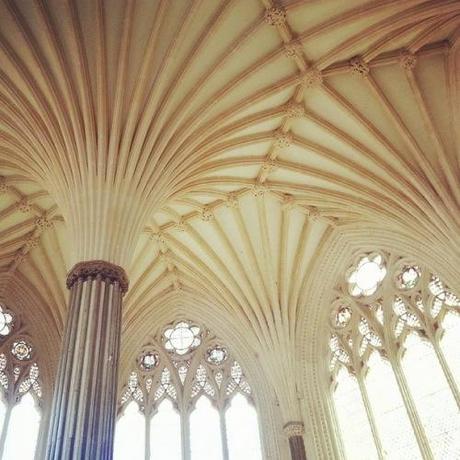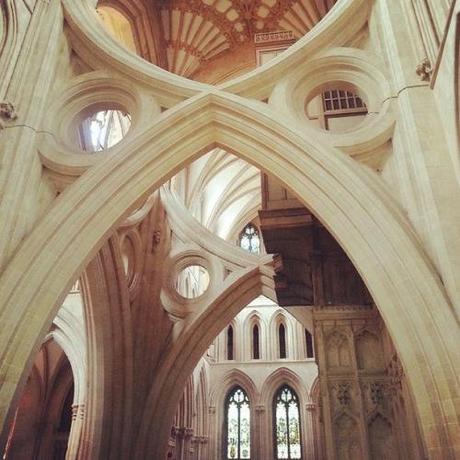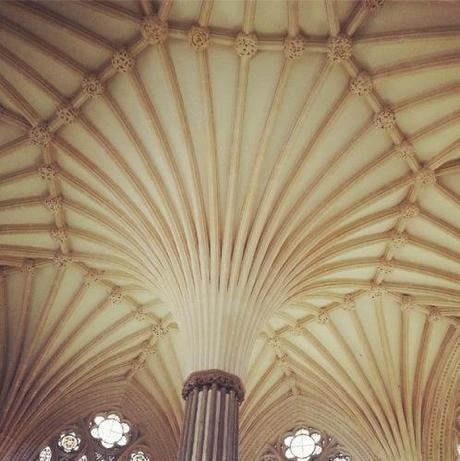 All photos: Melanie Clegg, 2014.
Anyway, I hope you like the photographs I took while there. I have a BIT of a fondness for scissor arches as you can see but to be honest the whole place is a photographers' dream with its wonderful filtered light, stained glass and huge pillars and arches going on. 'This is why maths is awesome,' I kept exclaiming to my poor long suffering husband as I dragged him around – conveniently forgetting in my enthusiasm that I actually hated maths at school and don't even have a GCSE in the subject. It's true though.
I think that one of the most amazing things about such enormous buildings is the way that they never truly seem to get crowded inside – your heart may sink when you see coachloads of people roll up and steam in through the doors but once inside it's like the building has just swallowed you all up with plenty of room to spare. It really amazes me how big cathedrals and their ilk actually are and also really brings home just how jaw droppingly impressive they must have been to pilgrims back in the day, when these were probably the biggest and most richly decorated (and best insulated) buildings that they'd ever beheld. It really must have been astonishing.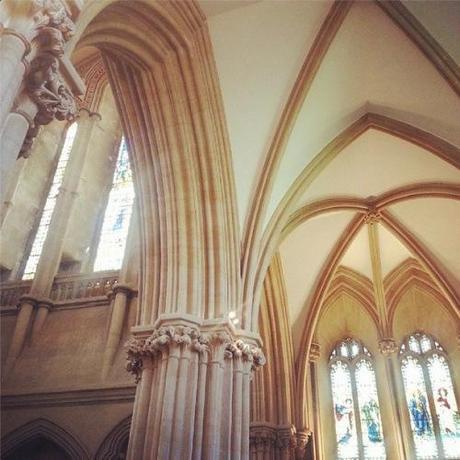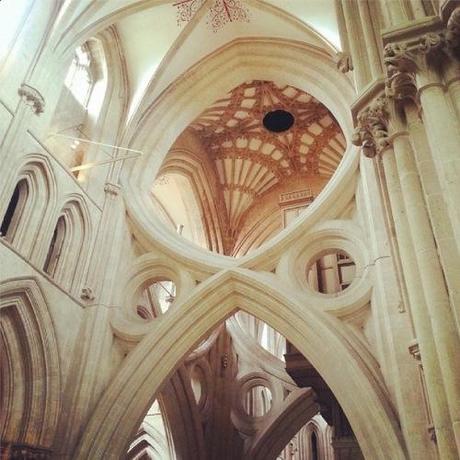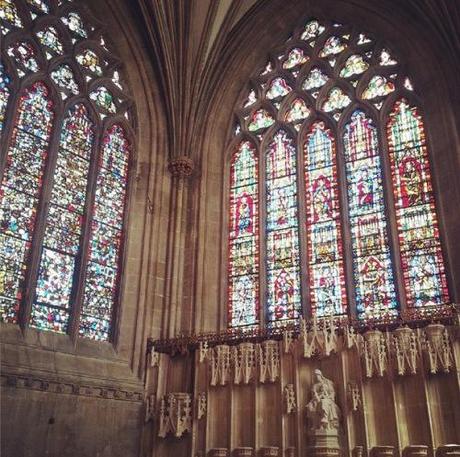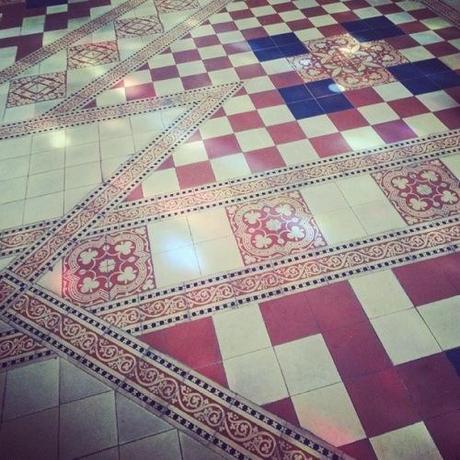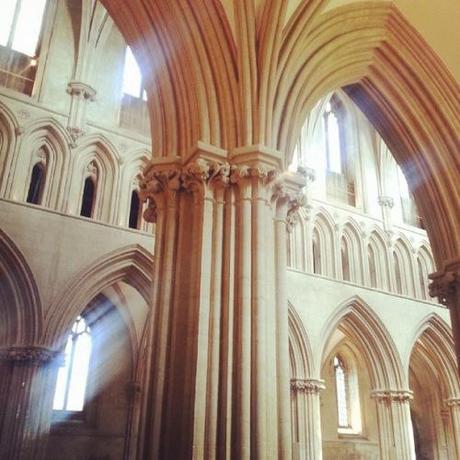 All photos: Melanie Clegg, 2014.
And then to step inside and be surrounded by such beauty – the perfect balance of the arches, the gloriously hued stained glass windows, the exquisite loveliness of the statues. Nowadays, there is a tendency to think that it is difficult for things built on a mammoth scale to be truly beautiful and that loveliness is a quality that tends to be associated more with the small and jewel like. Big buildings can be impressive, yes, but can they truly be beautiful? I often doubt it but then Wells Cathedral really makes me wonder as it seems to be beauty exemplified.
To discover more about Wells Cathedral, you can visit their website here.
******
Set against the infamous Jack the Ripper murders of autumn 1888 and based on the author's own family history, From Whitechapel is a dark and sumptuous tale of bittersweet love, friendship, loss and redemption and is available NOW from Amazon UK and Amazon US.
'Frothy, light hearted, gorgeous. The perfect summer read.' Minette, my young adult novel of 17th century posh doom and intrigue is now 99p from Amazon UK and 99c from Amazon US. CHEAP AS CHIPS as we like to say in dear old Blighty.
Blood Sisters, my novel of posh doom and iniquity during the French Revolution is just a fiver (offer is UK only sorry!) right now! Just use the clicky box on my blog sidebar to order your copy!
Follow me on Instagram.