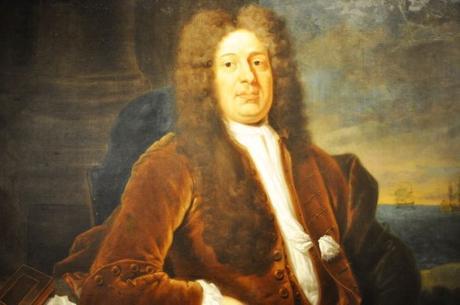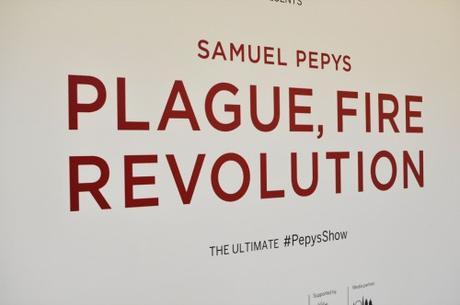 First of all, I am going to apologize for being so quiet over the past few months. As I've mentioned on here a few times, I suffer from severe depression and anxiety which have been exacerbated by the dismal winter weather and left me feeling really down in the dumps lately. I've always had a real problem with SAD anyway but it's been particularly bad this year and has left me needing to spend my time doing very little indeed and not really up to very much at all.
It's not been all bad though – I finished my biography of Marie de Guise before Christmas and it's now in the hands of an editor being polished up for its release in August of this year and I've also been working on a few other projects which I will hopefully be able to share with you all at some point later in the year. My blogging has gone sadly awry however but with some brilliant press days and new exhibition launches coming up, I'm hoping to get back into the swing of things now – starting with this much delayed post about the amazing Samuel Pepys exhibition at the National Maritime Museum in Greenwich, which I was lucky enough to see just before it opened to the public back in November and which invites visitors to 'step into the curious and chaotic world of history's greatest witness'.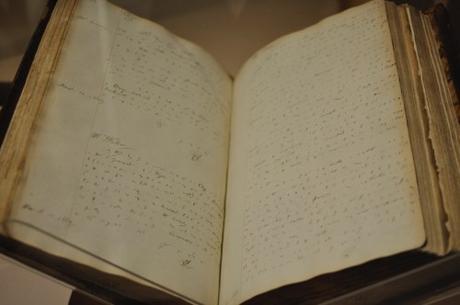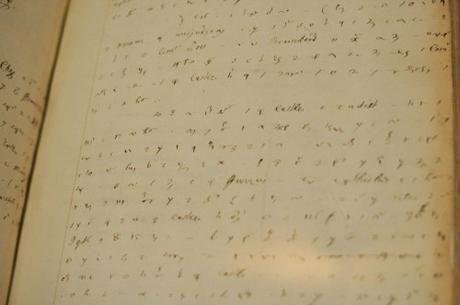 'Pepys, one of the most colourful and appealing characters of the 17th century, witnessed many of the great events that shaped Stuart Britain, bringing them brilliantly to life in his famous and candid diary. He lived through a time of turmoil which saw kings fighting for their crowns, and medieval London transformed into a world city following the devastation of the plague and the destruction of the Great Fire. He was a naval mastermind, a gossip and a socialite, a lover of music, theatre, fine living and women. He fought for survival on the operating table and in the cut-throat world of public life and politics, successfully navigating his way to wealth and status until his luck, intimately entwined with the King's fortunes, finally ran out.
Samuel Pepys: Plague, Fire, Revolution places this fascinating and multifaceted figure within a broader historical context, beginning at the moment a schoolboy Pepys played truant to witness the execution of King Charles I in 1649. It explores the turbulent times which followed, including the death of Oliver Cromwell in 1658 in a year of personal crisis for Pepys as he underwent a life-threatening operation to remove a bladder stone the size of a snooker ball without anaesthetic or antiseptic. He was fortunate to survive the ordeal; his recovery perhaps, in part, due to being first on the operating table that day, reducing the risk of infection…'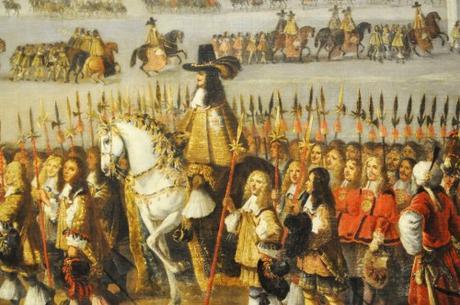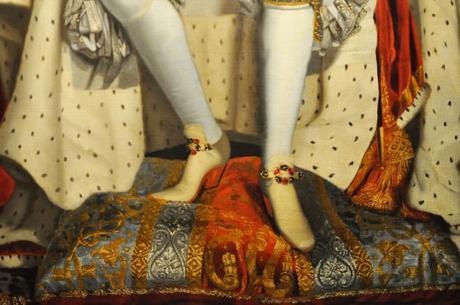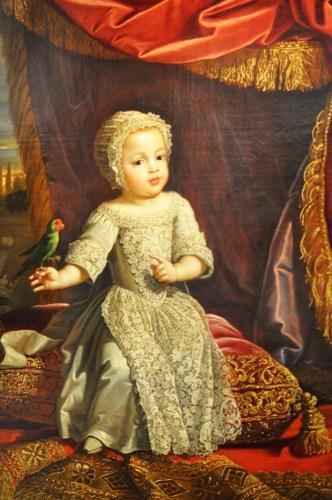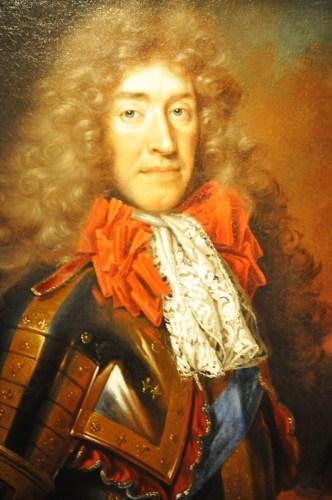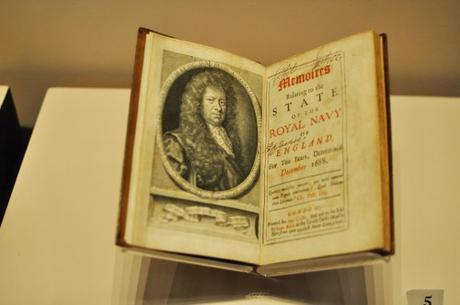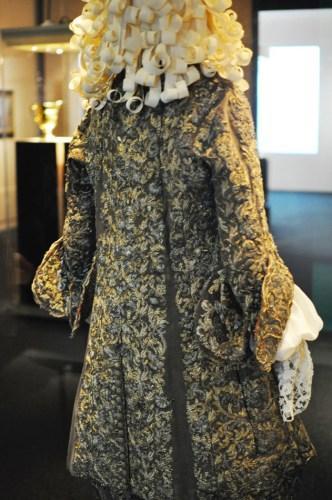 I'd already had a taster of Samuel Pepys' world when I was fortunate enough to accompany the National Maritime Museum press team, exhibition curators and a handful of other bloggers on a special guided walk through Pepys' London, which took in several sites that would have been familiar to Pepys and haven't changed all that much since his day, starting off with the church of All Hallows by the Tower, where Pepys climbed the tower to watch the Great Fire of London in 1666 before moving on to the lovely old Saint Olave's Church where Pepys and his wife Elisabeth were buried in the Nave and where a beautiful bust of the latter hangs on the wall close to the altar, deliberately placed so that Pepys could see her face from his pew. While at Saint Olave's we had the great honor of being allowed to get a close look at Samuel Pepys' own prayer book, which is owned by the church. So amazing.
After this we went on to the Clothworkers Company where we were shown the gorgeously opulent pieces of silver plate that Pepys, always very mindful of his prestige and public image, presented to them when he became master in 1677, along with his portrait, which shows him at his prime and looking very confident and well pleased with himself.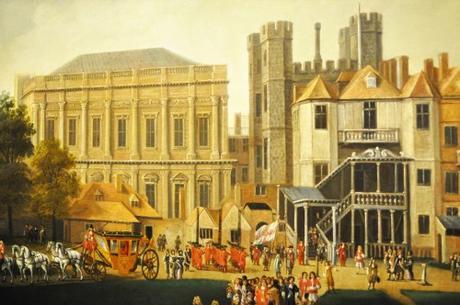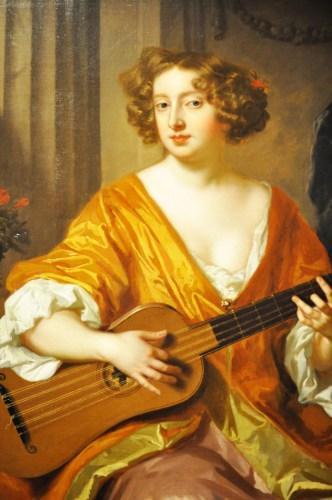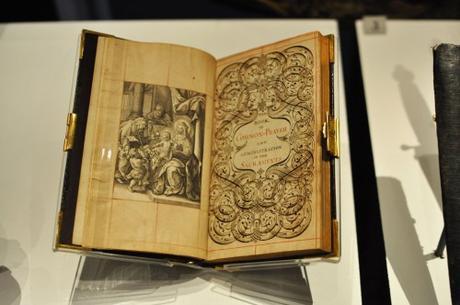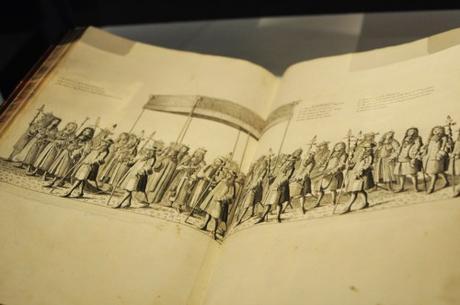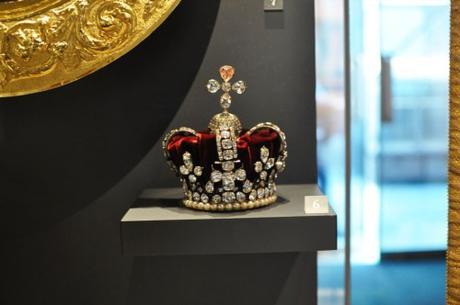 As I am TERRIFIED of heights, I decided to remain sedately and safely on the ground while the rest of the group went to the top of the Monument, which commemorates the Great Fire of London and was constructed on the site of Saint Margarets on Fish Street, the first of eighty seven parish churches to be destroyed in the blaze. Luckily I had one of the very lovely curators of the Pepys exhibition to keep me company and we enjoyed a great chat about their next upcoming exhibition about Emma Hart, Lady Hamilton. I KNOW. I CAN'T WAIT EITHER.
It was a splendid morning and definitely whetted my appetite for the upcoming exhibition where we would be introduced to even more of Pepys' fascinating and florid world of social revolution, court politics, domestic intrigue and science. A world, furthermore, that he makes immediate for us all through his amazing diaries which remain the very best resource for anyone interested in both everyday life in Restoration London or the machinations with Charles II's flamboyant court. Thanks to Pepys' droll observation style, we also get to take a close look at the huge characters of Charles' court, including his mistresses, whom Pepys, who always had an eye for the ladies, found absolutely fascinating.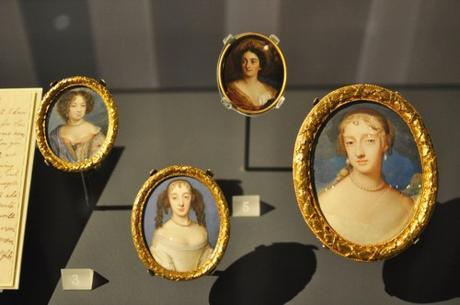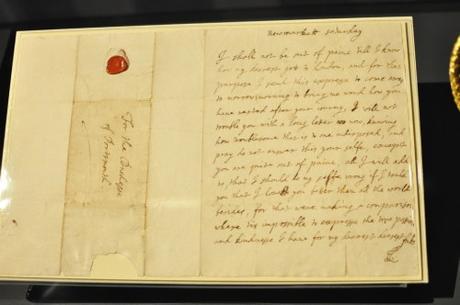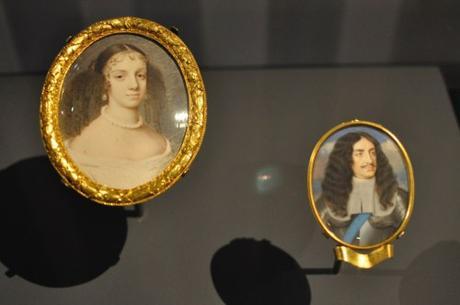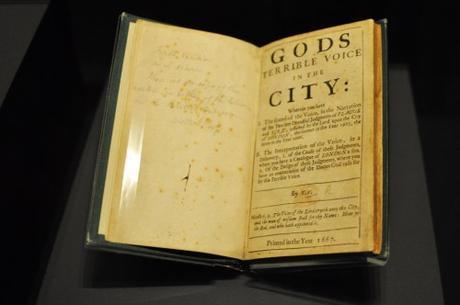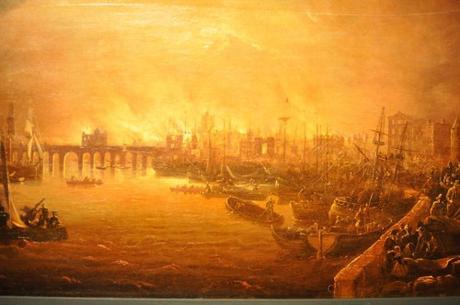 I arrived a little late to the press view of the exhibition last November but was lucky enough to be still very warmly greeted and then taken on a private tour by one of the curators Kristian Martin, who generously gave up some of his time to show me around the many MANY different exhibits (over two hundred objects from all over the world, making this the biggest exhibition about Pepys ever held), having a very lovely and fascinating chat about Pepys and his world along the way. There is, I suppose, a certain irony in the fact that the only thing NOT on display in the exhibition is Pepys' actual diary and that's all his own fault as his will stipulates that it should be kept, along with the rest of his meticulously put together book collection with its custom made shelving system, in his old alter mater of Magdalene College, Cambridge and that none of his books should be sold or leave the site. I can totally imagine Pepys, who adored courting publicity and would have been pleased as punch both by his continuing fame and this current exhibition, gnashing his teeth in impotent chagrin at the fact that he himself prevented his diary being shown off to the masses.
This really is a superb exhibition that vividly breathes life into Pepys and his times, employing a vast and superb array of objects to convey the many different facets of his personality and myriad of interests, which ranged from politics to science to the latest geeky gadgets to royal gossip to the navy. It could perhaps be said that the exhibition works as much as a broad microcosm of Restoration society as a close look at one of its most famous denizens. I thought it was absolutely incredible and really well put together with plenty of context for the different objects on display, which is always so important and in this case leads the visitor on a wonderful chronological trip through Pepys' psyche from his youth when he truanted from school in order to witness the execution of Charles I to his rise to wealth and prominence under the patronage of Charles' younger son James, Duke of York.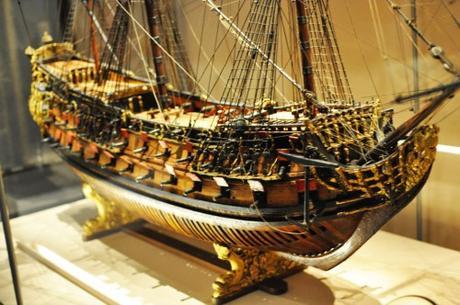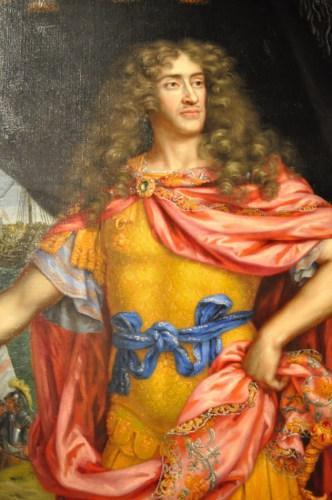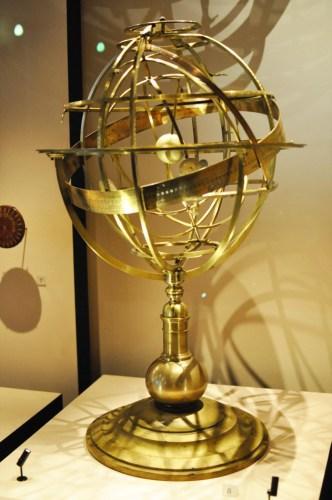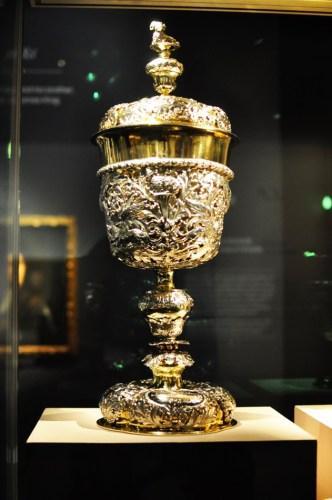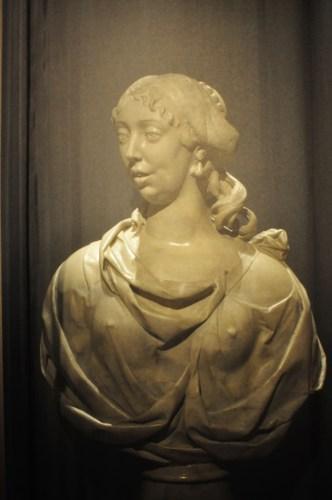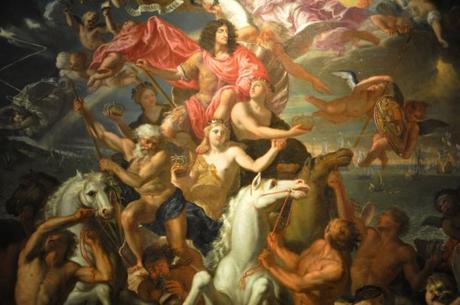 Much of the exhibition revolves around Pepys' scientific interests, which he maintained throughout his life, even rising to become President of the Royal Society even though he admitted that he didn't always really understand what the other members were talking about. His interest was genuine though and as always he threw himself into his position with his usual endearing energy and enthusiasm. He could be exceedingly pompous and rather ridiculous at times but there's something so likeable about Pepys, so real and immediate that it's impossible not to like him and wish that you could be friends with him.
For me the absolute high point of the show was the amazing silver tissue dress on loan from the Bath Fashion Museum, the most perfect example of seventeenth century fashion. I'm very familiar with the dress as I have seen it several times in situ in Bath but have NEVER before seen it looking quite so opulently gorgeous. I think that it has been cleaned for the exhibition and the better lighting really brings out its rich shimmer. It is completely lovely and it's so amazing to think that it has survived for so long and is in such good condition.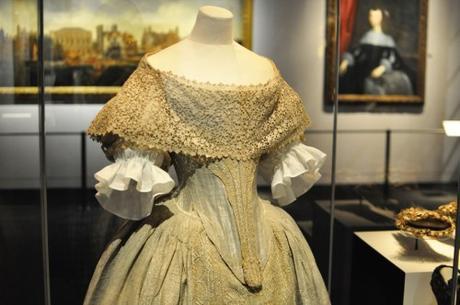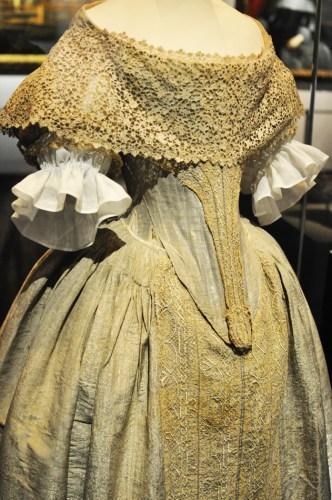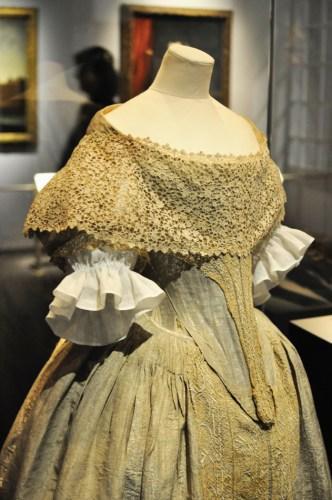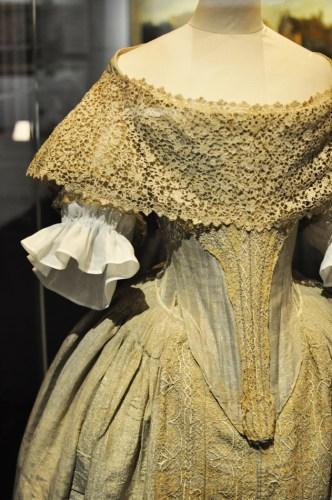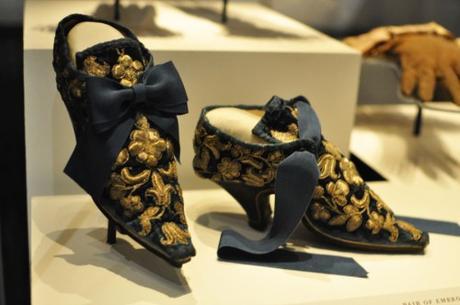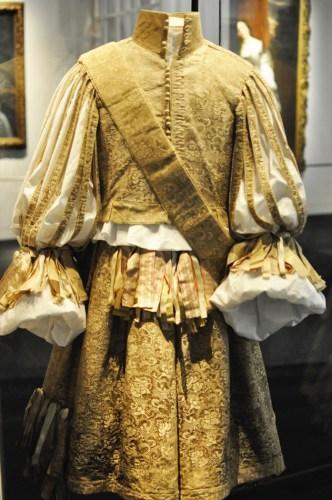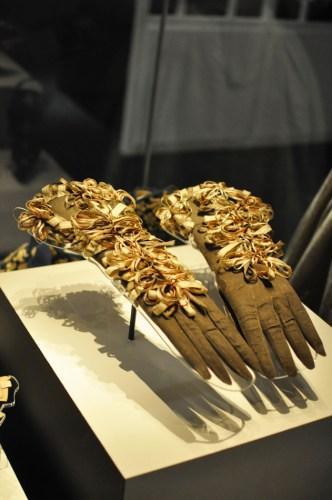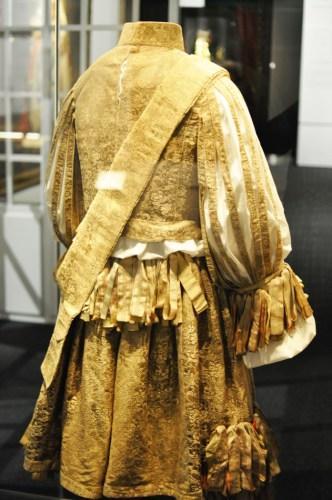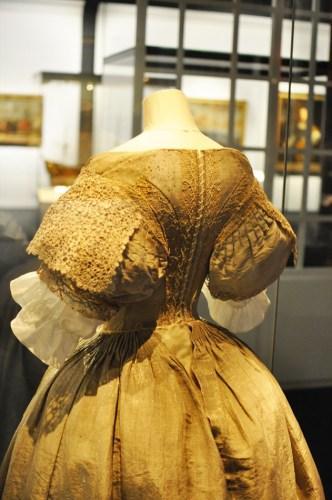 Samuel Pepys: Plague, Fire, Revolution is on at the National Maritime Museum in Greenwich until the 28th of March and I would definitely recommend it to anyone with even a passing interest in the life and times of this most fascinating of London's many residents.
If you can't make it to the exhibition itself then never fear for there is an absolutely superb catalog entitled Samuel Pepys: Plague, Fire, Revolution
to accompany it! I was very thrilled indeed to be presented with a copy when I went to the press event and have, as promised, DEVOURED it since then, relishing in the articles and gorgeous pictures. I'd definitely recommend picking up a copy!
(Sorry for the lateness and brevity of this review – I've been a bit under the weather lately but am hoping to get back into the swing of things now!)
*******************************************
I don't have adverts or anything like that on my blog and rely on book sales to keep it all going and help pay for the cool stuff that I feature on here so I'd like to say THANK YOU SO MUCH to everyone who buys even just one copy because you are helping keeping this blog alive and supporting a starving author while I churn out more books about posh doom and woe in the past! Thanks!
As the youngest daughter of the Empress Maria Theresa of Austria, Marie Antoinette was born into a world of almost unbelievable privilege and power. As wife of Louis XVI of France she was first feted and adored and then universally hated as tales of her dissipated lifestyle and extravagance pulled the already discredited monarchy into a maelstrom of revolution, disaster and tragedy. Marie Antoinette: An Intimate History is now available from Amazon US and Amazon UK
Set against the infamous Jack the Ripper murders of autumn 1888 and based on the author's own family history, From Whitechapel is a dark and sumptuous tale of bittersweet love, friendship, loss and redemption and is available NOW from Amazon UK
, Amazon US and Burning Eye.
'Frothy, light hearted, gorgeous. The perfect summer read.' Minette, my young adult novel of 17th century posh doom and intrigue is available from Amazon UK
and Amazon US and is CHEAP AS CHIPS as we like to say in dear old Blighty.
Follow my blog with Bloglovin
Follow me on Instagram.
Follow me on Facebook.
Follow me on Twitter.