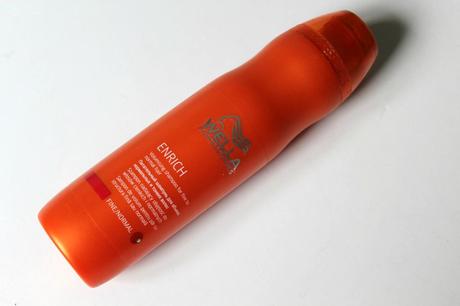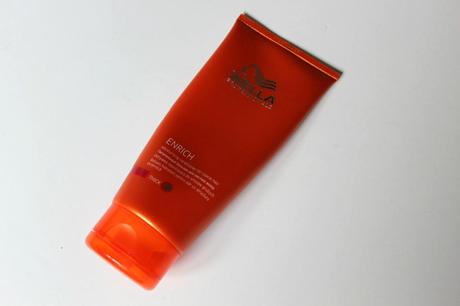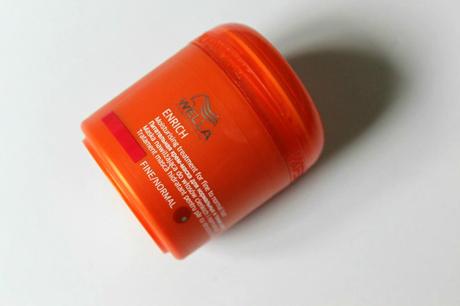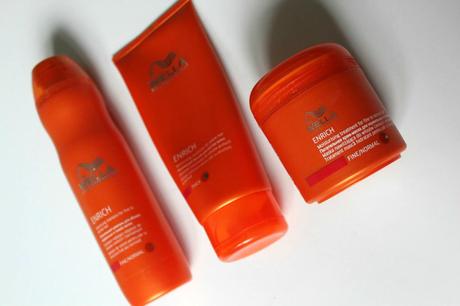 Enrich Shampoo: "Volumising shampoo for fine to normal hair. Leaves hair full of free-flowing moment. This light shampoo conditions hair, leaving it full of volume and vitality. With silk extract."
Enrich Conditioner: "Moisturising conditioner for coarse hair. Moisturises dry hair. This rich conditioner leaves dry hair with a soft, irresistible touch. With silk extract."
Enrich Treatment: "Moisturising treatment for fine to normal hair. This lightweight mask instantly helps to restore a healthy look to the hair, leaving fine hair full of free flowing movement. With silk extract."
My new years resolution was to take care of my hair, get it into decent condition to allow it to grow. Being a hairdresser, I know a lot about hair care, and tips for helping your hair stay in good condition, but I'm pretty lazy with my own hair, and tend to push the boundaries of manufactures instructions when it comes to my own hair, "it says 50 minutes but an hour will be fineee!" haha. Due to pushing these boundaries quiet regularly plus using hair dryer and straighteners with no heat protector (shock horror!) plus my laziness to actually get it cut, meant that my hair was more drab then fab!
I decided my first step would be good quality products, with regular treatments to restore the moisture. I worked with Wella Professionals when I first started hairdressing, and even had in-depth training on all their products, so when I was in my local Sally's recently, I decided to put my trade card to good use and purchased this range of products.
The shampoo is like no shampoo I've used before, usually volumising shampoo's are really light but after one use, my hair felt really soft as if I had already conditioned it. Because the shampoo is a highly concentrated you only need a small about, I used like a 10p sized amount and it was more then plenty, and a little tip I was taught is that if you feel that its not lathering enough, just splash some more water on your head and it will help lather it some more so you aren't using excess product.
The conditioner is not the greatest conditioner I've used. I like it to feel like I've used conditioner, and with this I don't really get that feeling, which means I've been over compensating by using extra product. Though when my hair is dry is does feel a lot softer and looks smoother than it usually does with 'drug store' conditioner.
The treatment is definitely my favorite product out of the three. I tend to put this on when I get in the bath, do all my bits and bobs or just lay there and read a magazine cover to cover and then rinse it out. This actually makes my hair feel amazing. I've noticed such a difference since using it. Most hair dressers would recommend to use a treatment at least once a week, but as my hair is quiet bad and I wash my hair every day, so I've been using this every three washes, not always for as long, sometimes just for five minutes while in the shower. I just hope the treatment doesn't hit a wall and just carries on making my hair feel and look better and better. If I was to tell you to buy one out of the three products this is the one I would most recommend.
They retail at £8.59 for the shampoo, and £9.98 for the other two products but with my trade card I got them for £5.47 and £6.33.
Have you tried any Wella Professional products? Any you would recommend or would like to try? Let me know!
"believe in yourself"