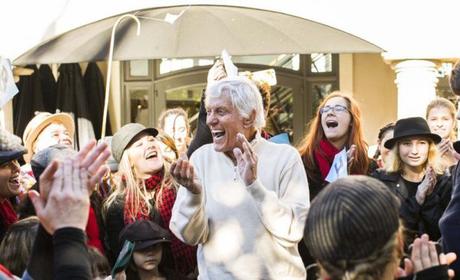 Dick Van Dyke celebrated his 90 th birthday this past December 13, the way most nonagenarians do - by participating in a flash mob. Fitting for a man whose career is peppered with characters of youthful, childlike vision. In his impressive, 70-plus-year career he's amassed five Emmys, a Tony and a Grammy.
Van Dyke got his start on radio and quickly moved to the stage. In 1959 he snagged the lead in Bye Bye Birdie, a role he reprised for the 1963 film. Other films followed including Chitty Chitty Bang Bang and Divorce American Style, but it was the 1964 Disney adaptation of Mary Poppins that gave birth to his most remembered film roll, as Bert the chimney sweep.
Television appearances throughout the 1970s and 80s on shows like The Carol Burnett Show, Matlock and Diagnosis Murder kept him in the public consciousness throughout the decades.
But he is best remembered for his eponymous sitcom about a television comedy writer, The Dick Van Dyke Show, which ran from 1961-66. The show has one of television's most memorable theme songs and the opening sequence showcases Van Dyke's charm and gift for physical comedy.
Maury Amsterdam, who played Buddy on the show, wrote lyrics to the theme song which were never used and are little known. The music was written by Earle Hagen, who also penned (and whistled) The Andy Griffith Show theme.
Since the turn of the new century, Van Dyke has performed with a male a cappella barbershop quartet called the The Vantastix, who perform the song - with Amsterdam's lyrics - regularly. The optimistic and hopeful message of the lyric is universal and one that deserves exposure in a cruel world. So here is a clip of the man himself with the The Vantastix singing the theme to his eternal television show.
Happy 90 th birthday to one of America's favorite song and dance men.
So you think that you've got troublesWell trouble's a bubbleSo tell old Mr. Trouble to get lostWhy not hold your head up high andStop cryin', start tryin'And don't forget to keep your fingers crossedWhen you find the joy of livin' Is lovin' and givin' You'll be there when the winning dice are tossed. A smile is just a frown that's turned upside downSo smile and that frown will defrostAnd don't forget to keep your fingers crossed