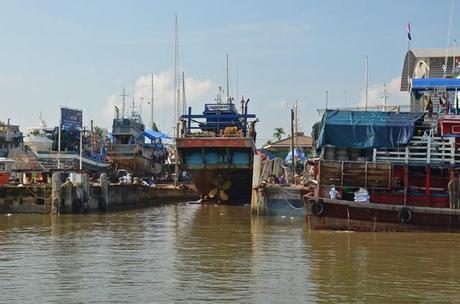 PSS Satun, a Thai shipyard just a hop over the southern border with Malaysia, sits at the edge of a small village up a winding muddy river. Because we can only enter the river at high tide, we spend the night before our haulout at a bend where the depth drops enough to keep water under the keel through a full swing. Surrounded by mangroves, we watch fishermen wade knee-deep in the mud at low tide, pushing boxes and collecting something- crabs?- from the flats.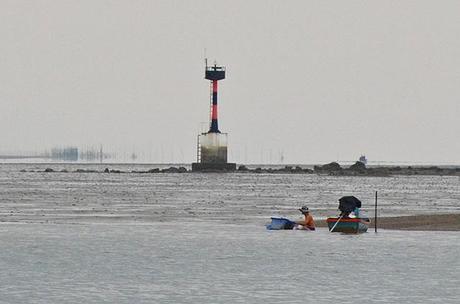 Crossing into Thailand to this spot retraces the same route that brought us here nearly a year ago. This does nothing to dampen our enthusiasm: if anything, it is lifted, knowing what lies ahead. Jamie and I sit in the cockpit, watching sea eagles wheel and cry overhead, and imagine the possibilities.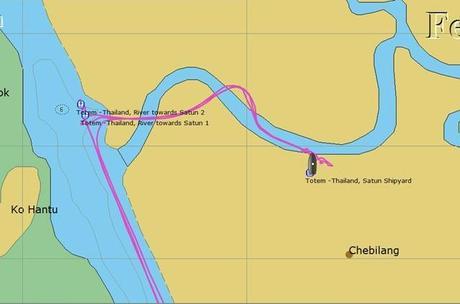 OpenCPN view of our track to the shipyard: the charts around here… well, they don't help a whole lot.
This is our calm before the shipyard storm. Last year, we spent about a week in this same yard to put new bottom paint on. Our only hindsight regret was that we didn't fully appreciate the breadth and depth of skillsets, and how much more we could have done. Not this time!
Here's a sped-up view of our trip up the slipway:
We still aren't sure what we'll do. Like many things, it is a pushme-pullyou between what we'd like to do and what our meager budget allows. But even little budgets like ours can stretch far with the good value for quality work available here. We're already in a mindset to spend a little more than we probably should, because it's hard to find these skills at such good rates. Still, there's always a limit! once we have all the estimates, we'll prioritize projects based on importance and cost. The wish list, however, is extensive.
The essential projects
New water tank. Our stainless steel primary tank (it's backed up with a bladder tank and jerry cans) has growing leaks. We patched it up in Mexico, five years ago; this time, it needs to be replaced and are weighing whether to go with stainless or fiberglass. You do kind of need water, so this has to be fixed.
New stanchion bases. Like our water tank, these are original to Totem. They've served well for more than three decades but show some signs that their strength is compromised. This is a safety concern, so it's non-negotiable; we'll replace them.
New refrigerator box. At the moment, we don't have any refrigeration beyond a cooler with a bag of ice. The compressor stopped working some weeks ago, and I've since been expanding my repertoire of Meals From Stuff That Doesn't Need Refrigeration. That's coming along nicely, thank you, but I am not the kind of hard core cruiser who can go without any refrigeration at all. We could replace the compressor- we'll have to- but the bigger underlying problem is that fact that our fridge box, is insufficiently insulated. It's also original to the boat (sense a theme here?), and the 32 year old open cell spray-in foam of insufficient thickness is definitely more of a conductor than an insulater. For this bit of fun, we get to RIP OUT THE GALLEY. Hoo boy!
Full rudder inspection. We'll drop the rudder and skeg to inspect bearings and any signs of corrosion and wear. This may have been done by a prior owner, but it may not have been done since Totem was built in 1982: we just don't know, and that's not good enough. With big blue water ahead, it's important for our peace of mind and the safety of our little crew.
New bottom paint. Unfortunately, the paint we put on last year didn't do as well as we hoped. It's intended for commercial vessels that have more constant (and higher speed) motion. We proceeded to spend half of this year being relatively stationary dealing with our engine. Boats don't move very well when they host barnacle farms underwater, so it's something else we simply must do.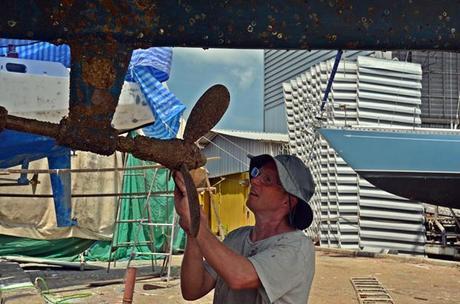 The wish list
Next begins the wish list, in no particular order, of projects we hope to undertake…depending on what time and budget will allow.
Awning frame. We don't have enough shade in the cockpit. It can be pretty hot and uncomfortable underway, as whoever is on watch looks for a patch of shade under our hard dodger. With a frame, we'll be able to stretch fabric that extends the shade footprint we can have while sailing- and give us more options for even larger shaded areas at anchor.
Dodger reinforcement. We added this hard dodger after buying Totem in 2007. It's great to have easier access to the boom, but is a little thin to carry adult weight and has developed some stress cracks. A little strengthening will go a long way.
Stern rail / arch modifications. Our current stern arch was an awkwardly placed addition by a prior owner that doesn't integrate with the original stern rails. It includes davits that are hugely helpful for lifting our outboard, use in a potential man overboard situation, and short-term dinghy hauling- but are not quite the right size, creating chafe on the dinghy. Stuck between the arch and the rails is a pole that hosts the wind turbine is yet another add-on. While we love each of these independently, it's a poor overall design that isn't at all integrated, and creates a lot of dead space on the aft deck. The yard has skilled stainless workers: with minor modifications, we hope to have better davits, reclaim usable space, add social space (aft deck seats! wooo!), an improved turbine mount, and a stronger mount for the outboards.
Anchor roller. Minor modifications will better lock the anchor in place when stowed, and provide better control of chain exiting the roller when Totem is swinging at anchor and the chain angles off to one side.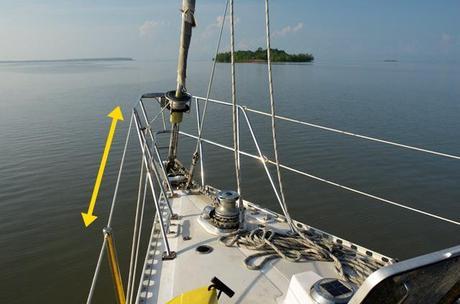 Bow rail. We've done our fair share of leaning out over the bow, and Totem's bow pulpit is small. We'd like to extend the stainless rail back to the first stanchion. Whether it's looking at dolphins or trying to get a mess off the anchor, it will give us a safer, more stable base.
Waterline stripe. Since we have to paint the bottom, it's a good time to work on the waterline stripe. Our current blue stripe is half gone from bottom cleaning and wear and tear.
In the world of wants vs needs, my big "wish" is for the stern modification. It would make this part of Totem so much  more functional, and fun! Still, adding shade with an awning would be pretty huge too. OK, I could actually talk myself into any of these being important! But we'll see what we can manage. If we only get our essentials done, we'll be happy. If we can nip a couple on the wish list, we'll be thrilled. If we get that stern area done, I might even add ecstatic! But basically: this is a win/win proposition, and I'm really excited to see what the coming weeks bring.
It's a big list, and of course, there are things we don't even know about that will undoubtedly float onto it- it's a boat!
Shipyard veterans past and future know we love it when you read this on the Sailfeed website.