While previewing a home for a client a few days ago, Sharlene made a comment that, while I knew it logically, struck me as particularly interesting that day. She mentioned that, when homes of a certain age were constructed (in the early 1900s, for example), the basement was never intended to be livable space; rather, the concept of a basement originated from the root cellar, where food was often stored due to inherently cooler subsurface temps.
Similar to how we've expanded to utilizing below-ground square footage, homeowners are constantly on the lookout for ways to increase useable space in the home, regardless of the home's size. In addition to using the basement, we often also renovate half-stories and attics into livable space, turn walk-in closets into offices or playrooms, and garages into master suites. 
Another way that homeowners are gaining space without adding on is to convert a tool or storage shed—commonly referred to as "shedquarters."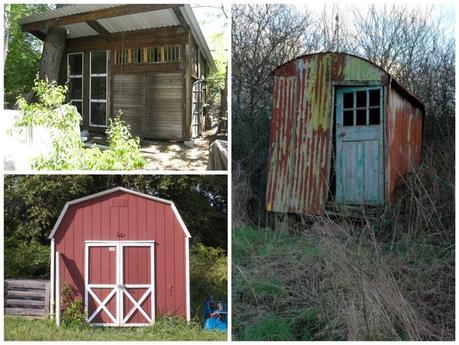 What could you do with an extra 150-200 square feet?
My first experience with a structure of this type was not in the Twin Cities, but in Duluth, where a friend had renovated a 100-plus year-old farmhouse, and built a small guesthouse/reading room/office space far back on his wooded lot, abutting Hartley Nature Center. It was autumn when I visited, and the aspen and birch trees were vibrantly green and yellow, with a smattering of leaves already on the ground.
The shed's footprint was around 150 square feet with a lofted sleeping area, a wood-burning stove, built-in bookshelves, and a cushioned bench. A built-in desk rounded it out as a great work space. With wood paneling and irregularly-sized staggered windows, the tiny enclave felt cozy and inviting, and I hope some day to experience an overnight stay there.
Looking online, many of the shedquarters serve as home offices, or as tiny, bathroom-less guesthouses. While there are still permits and regulations to heed, converting a structure into a "shedquarters" might be the easiest way to address your family's need for extra space!
Angela Anderson, 612-396-3654
Realtor, Results Support Services: EMAIL — BIO
Licensed Associate Working with Sharlene Hensrud of RE/MAX Results, and HomesMSP — Sharlene, John, Angela
Related Articles:
Insulating your Basement? Start with the Rim Space
Are You Looking to Buy a Stairway to Heaven?
Finding Tiny Houses in the Twin Cities