Perfect to make in advance for a lunch time snack, as a go-to recipe for a party favor, or even as part of a meal, these spinach Parmesan cakes might be little bites but they pack quite the flavorful punch and are extremely healthy, too.
With only a couple inexpensive ingredients and a little bit of baking (the entire recipe roughly takes forty minutes), you can have these cheesy spinach cakes. But, what makes this recipe so great if you want to eat healthy or happen to be on a diet? Check out some of the yummy and very healthy ingredients and their benefits below:
Fresh spinach is great for diets because it can actually help curb overeating, on top of being very healthy by being rich with vitamin C, vitamin E, beta-carotene, zinc, and much more. It is also great to keep your blood pressure healthy, your immunity, and happens to be quite tasty–contrary to what you might've heard!
The cheeses in the recipe, ricotta and Parmesan, are low in fat as well as tasty. They help with your calcium intake, curbs appetite, and increases bone strength on top of the spinach in the cakes.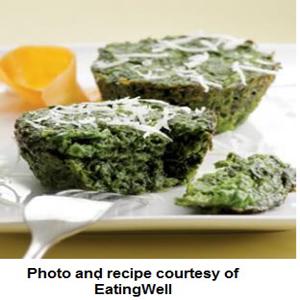 So, what do you need to make these amazing and delightful spinach cheese cakes? Here is a full list of the ingredients below:
Twelve ounces of fresh mature spinach
Half a cup of part skim ricotta cheese (or low fat cottage cheese)
Half a cup of finely shredded Parmesan cheese
Two large beaten eggs
One clove of garlic, minced
One fourth teaspoon of salt
One fourth teaspoon of pepper, freshly ground
Directions
Preheat your oven to 400° F.
In a food processor pulse the spinach in 3 batches until chopped. Transfer to a medium-large bowl and add the cheeses, eggs, salt and pepper. Then stir to combine the ingredients.
Use non-stick cooking spray to coat each cup of your muffin pan. Then pour the spinach mixture evenly in each of the 8 cups to the top.
Bake in the oven for approx. 20 minutes, until the cakes set. Take out and let sit in the muffin pan for 5 minutes. Loosen the edges of each cake with a knife and turn over onto a serving platter. Sprinkle with some more parmesan cheese and enjoy!