When it comes to finding diet friendly recipes, this one happens to be one of the best. Sichuan chicken is a very popular dish in Chinese restaurants and the Sichuan sauce is even more popular in China, but did you know that Sichuan-style chicken can help you lose weight while still having a full meal? This recipe can make four servings and has some incredibly healthy ingredients.
Some of the major ingredients include chicken, sugar snap peas, scallions, peanuts, and ginger. What are some of the benefits of eating such foods?
Sugar snap peas are full of vitamins C and K, are considered a heart-healthy food, and are full of fiber with low cholesterol.
Skinless chicken used in this Sichuan dish is a great source of protein, and since it is skinless you won't have the fats and other unhealthy additives from the skin.
Peanuts are another great source of protein, especially if you want to limit your meat intake. These are also great for natural energy that caffeine normally can't replicate.
Ginger helps with digestive problems, clears up sinuses, and is great for those who are on diets. Not only that, but it is also very tasty–especially in Sichuan dishes!
Here's the recipe list for both the Sichuan sauce and the meal itself down below: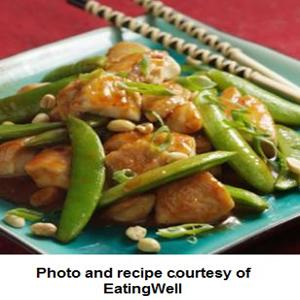 Sichuan Sauce:
Three tablespoons of reduced-sodium chicken broth
One tablespoons of tomato paste
Two teaspoons of rice vinegar, or balsamic
One teaspoon sugar
One teaspoon of low sodium soy sauce
One half teaspoon of sesame oil
One fourth teaspoon of crushed red pepper
Sichuan Chicken:
One pound skinless, boneless chicken
One teaspoon of dry sherry or Shao Hsing rice wine
One teaspoon of low sodium soy sauce
One and one half teaspoons of cornstarch
One half teaspoon of minced garlic
One tablespoon of canola oil
Two ginger roots, sliced and smashed
Two cups of sugar snap peas
One fourth cup of dry-roasted peanuts
One minced scallion
Directions for Sichuan Sauce:
Add the chicken broth, tomato paste, vinegar, sugar, soy sauce, sesame oil, cornstarch and red pepper flakes into a small bowl and whisk together.
Directions to Prepare the Chicken:
Add the chicken breasts to a small bowl along with the rice wine, soy sauce, cornstarch and garlic and mix together.
Directions for the Meal:
Heat a large wok or skillet over high heat until a drop of water evaporates within 1-2 seconds of contact.
Add ginger into the pan and stir-fry for 10-15 seconds. Then add the chicken mixture and make sure to spread out evenly. Cook for approx. 1 minute, until the chicken begins to brown.
Use a spatula or large spoon and stir-fry the mixture for approx. 30 seconds. Then even out the ingredients and cook for an additional 30 seconds.
Continue to stir-fry the chicken mixture for approx. 1-2 minutes, until the chicken is lightly browned on all sides.
Add the sugar snap peas and stir-fry for approx. 1 minute.
Add the Sichuan sauce, evenly coat the chicken and stir-fry for approx. 1 minute, until the chicken is cooked through and the sauce is thicker and glossy.
Transfer to a plate and enjoy!