When's the last time you heard the words "super fast" and "super easy" describing a healthy, nutritious recipe? Yep, not too often. But that all changes with this delicious Quinoa Spinach Soup!
It only takes about 30 minutes from start to finish and is perfect for a cold winter night, or for those days when you seem to be late for everything. It contains an abundance of fresh veggies, giving it its nutritious kick. Plus, for all the vegans out there, it's exactly what you're looking for.
Ladies and gentlemen, I present the healthyand delicious Quinoa Spinach Soup!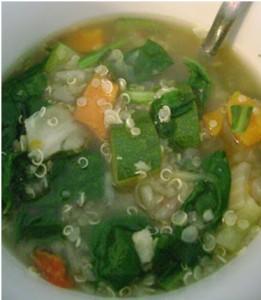 Recipe and photo courtesy of Jo and Sue
Water – 1 cup
Quinoa – ½ cup
Vegetable broth – 4 cups
Small zucchini, chopped – 1
Large carrot, chopped – ½
Onion, chopped – ½
Spinach, washed and chopped – 3 cups
Boil water.
Add quinoa, reduce heat and simmer for 10 min.
Add vegetable broth, zucchini, carrot and onion. Simmer until vegetables are done, approx. 10-15 min.
Add spinach and let wilt.
Add salt and pepper to taste.
Bon Appétit!
About the Author
Jamie Eberle is the Chief Financial Officer of BeLiteWeight, which has helped over 6,500 patients have safe, affordable and successful weight loss surgery over the past eight years. Jamie has had bariatric surgery and knows the ins and outs of the different procedures they run, including: gastric sleeve surgery, gastric sleeve plication, Lap Band and gastric bypass surgery, among others. BeLiteWeight focuses on each patient's needs to help them choose the right procedure and get started on the path to a healthier life.