If you need a break from the ordinary summertime dinner fare, why not try fish tacos with watermelon salsa? It's tasty. It's low in calories. And most importantly, it's incredibly good for you.
Fish tacos offer lean muscle-building protein, fiber and Omega-3 fatty acids—which can fight Alziehmer's disease, promote healthy joints and are good for your skin. And watermelon? Well, watermelon is a low-fat treat that gives you a sugar fix while providing essential vitamins.
Here's a look at some of the other healthy ingredients in this perfect summertime lunch or dinner:
Four cups of diced watermelon. In addition to tasting great, watermelon (seedless, of course) contains Lycopene, which is a cancer-fighting agent.
One-half of a small red onion. Red onions have a lot of antioxidants, which help clean your body of toxins.
One-half cup of roughly chopped fresh cilantro. Cilantro is good for so many reasons: it's high in fiber, rich in magnesium and it tastes delicious.
One jalapeno.Who's down for some heat?
The Juice of two limes. Vitamin C anyone?
Two teaspoons of extra-virgin olive oil, which provides "good fats" and a ton of flavor. 
One pound skinless wild striped bass fillets. This is the key ingredient. It's full of protein and those ever-important Omega-3 fatty acids.
One teaspoon of chipotle chile powder.
One heart of romaine lettuce.
Eight corn tortillas. This is where you'll get your fiber and just enough carbs to keep you going.
One avocado. Avocados have some many things going for them. They are extremely high in protein, good fats and deliciousness—all wrapped in a funny little skin. Don't eat the skin, of course. 
Directions for the Watermelon Salsa:
Add the watermelon, onion, cilantro, lime juice, jalapeno, one tablespoon of olive oil and salt into a bowl and toss together.
Directions for the Tacos:
Preheat your grill to high.
Sprinkle the chipotle chile powder and salt on both sides of the bass fillets, and then drizzle the remaining two teaspoons of olive oil.
Brush your grill with olive oil and cook on each side for about 4-5 minutes, until cooked through.
Place them on a plate and cut them into small pieces for the tacos.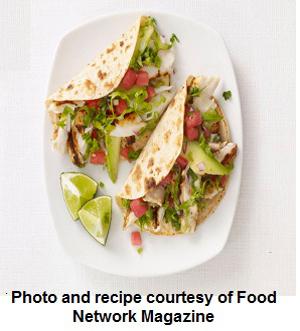 Directions for the Rest:
Take two tablespoons of juice from the watermelon salsa and toss the romaine lettuce.
Warm up the tortillas on the grill (or in the microwave).
Then assemble the tacos and prepare to chow down!