Breakfast. We all eat it. We've all heard about the enormous health benefits from consuming it (as long as it's hearty and nutritious, of course). And we all know we need it.
But some of us skip it from time to time.
Why? It might be because you're running late and don't have time. You might simply forget because there's so much going through your mind. It might even be because you want to spare those calories and save them for later. Well my friends, you've heard it before and you're going to read it again right now… DON'T SKIP BREAKFAST!
GOOD
Breakfast = large
Lunch = medium
Dinner = small
BAD
Breakfast = small
Lunch = medium
Dinner = large
Here's one of our go-to weight loss recipes because it's healthy, nutritious, fast and delicious. Granola is a little bit of a contentious topic on its weight loss capabilities, but rolled oats are jam-packed with fiber–vital for digestion–and the barley is full of antioxidants.
Speaking of antioxidants, let's not forget the berry blast of this parfait. Blueberries, strawberries, raspberries and blackberries–fresh is preferred, but frozen is still great–are full of antioxidants, which nurture and protect our cells to fight off disease and promote overall good health. Plus, they fight off the dangerous free radicals that can cause cancer, arthritis, atherosclerosis and Alzheimer's disease.
Don't forget about the non-fat greek yogurt, either. It has substantially less sugar and higher protein than regular yogurt, provides a good amount of calcium and has healthy lactobacteria to help improve your intestinal health.
Whether you're rushing off to work, ending a nice morning workout or leisurely catching up on the news over the weekend, this Berry Blast Granola-Yogurt Parfait is just what the doctor ordered! This also makes a great dessert or a healthy snack.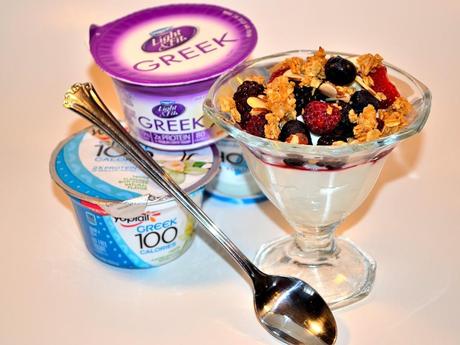 1 Small Greek Yogurt - Any flavor you wish. (Dannon Lite & Fit only has 80 Calories, 0 Fat & 2x more protein)
1/4 Cup Mixed Berries – Fresh or Frozen
1 teaspoon Sliced Almonds
2 Tablespoons Granola
1. In a small bowl or dish place the Greek Yogurt on the bottom.
2. Top the yogurt with berries, sliced almonds and granola
3. Eat & Enjoy!
About the Author
Jamie Eberle is the Chief Financial Officer of BeLiteWeight, which has helped over 6,500 patients have safe, affordable and successful weight loss surgery over the past eight years. Jamie has had bariatric surgery and knows the ins and outs of the different procedures they run, including: gastric sleeve surgery, gastric sleeve plication, Lap Band and gastric bypass surgery, among others. BeLiteWeight focuses on each patient's needs to help them choose the right procedure and get started on the path to a healthier life.