A few words on the Glyndebourne Rosenkavalier controversy.
by
Paul J. Pelkonen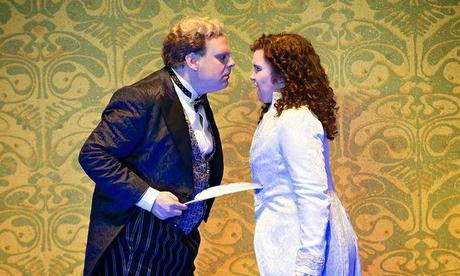 Confronting her critics: Tara Erraught (right) in Richard Jones' new production of
Der Rosenkavalier at the 2014 Glyndebourne Festival.
Photo by Tristram Kenton © 2014 Glyndebourne Festival.
There's been a lot of Internet space occupied lately by the controversy following reviews of the new Glyndebourne production of
Der Rosenkavalier
.  Last week, British critics from major newspapers (including
The Times,
The
Daily Telegraph
 and the
Financial Times
) took mezzo-soprano Tara Erraught to task for her body type in the performance of the opera's titular role. The controversy has since jumped the Atlantic and received coverage from the
Washington Post
 and the
New York Times
website.
Mr. Christiansen argues that Ms. Erraught is "dumpy of stature" and possessed with an "intractable physique." The
Financial Times
' Andrew Clark was more positive but still described the Irish-born mezzo as
"

chubby bundle of puppy-fat". 
The Times
critic Richard Morrison called Ms. Erraught "Unbelievable, unsightly and unappealing." These comments have touched off a firestorm of  controversy, attacking these critics for "fat-shaming" Ms. Erraught and using her body type as a basis for his criticism of her performance.
I am asked sometimes (usually when standing for hours on the rush line for the Metropolitan Opera) how one establishes standards for criticism of a performance. And my usual answer is that it's a combination of specific research into a particular work and one's own reaction to the performance happening onstage. Some critics jot down notes during a performance. I prefer to experience it without a notebook and then write down my impressions afterward. We're all a bit different.
In writing about opera, the voice takes absolute priority. (The sounds coming out of the orchestra are important too!) Some of the "checklist" questions I ask myself are: How does the singing sound? Is it pleasing to the ear? Is it close or reasonably close to the composer's intentions? For in opera,
sound
comes first. Acting comes second. Chiding a singer for their physical appearance is easy...but is it actual criticism and is it of any value to the reader?
True, there have been performances (especially in these days of directors imposing their will upon masterworks of the past) where awkward costuming or ungainly stage design can hamper a performance. And there are even operas where a large body can be celebrated--although to be fair they are usually roles like Baron Ochs, an older man whose interloping manners fuels the comic plot of
Rosenkavalier.
In the case of Ms. Erraught, I have not seen her performance and therefore cannot yet comment on the value of her Octavian. In fact I've yet to hear Ms. Erraught sing, but if she has a solid voice and a fine core, I am sure she will have a long career on the operatic stage. I for one will gladly look forward to hearing her as Octavian and in any other role she cares to take on.
The current cultural obsession with weight and appearance (especially given the rise of hi-definition telecasts) is frankly, in this writer's view, dangerous. Singers seeking work and fearing the vitriol of critics may force themselves into an ugly decision: to wreak medical havoc on their bodies. A stomach staple or a gastric sleeve may alter the shape of their body and cause irreperable damage to their most important asset: the voice.
When you combine the high salaries of singers with a ready-and-willing medical establishment willing to cash in on providing gastric bypasses and even facial surgery, the consequences to the art form can be career-ending. The operatic voice is a treasure but it is in danger of being destroyed by ambitious singers, foolish handlers and eager doctors who ignore Hippocrates' rule: "First do no harm."
Critics may want to take that advice, too.