This week is experimental.  I have taken lots of macros with my Nikon D3100 and am learning how to use camera shots for other angles and views.  The Weekly Photo Challenge : Up was the push I needed to look elsewhere other than ground and eye level.  These are not perfect and we all have to start somewhere.
The first one is a Golden Showers climbing rose that seems to want to reach for the sky.   Apart from a very small degree of sharpening there is no "tweaking" in this photo, it is as it is, the sky really was that blue.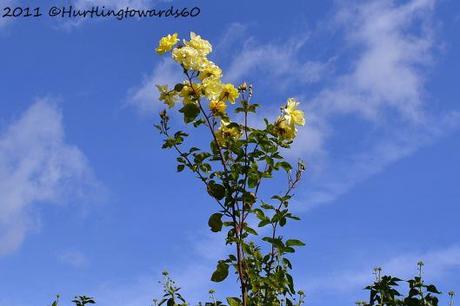 The idea of the next photo was originally to show the height of the Elderflower  which I had cut almost to the ground at the beginning of this year.  When focusing on the Elderflower, I noticed the vapour lines left from aeroplanes, and the sun behind the cloud, so I took a photo of that instead.