I start this post with a great big apology to My Fair Lady who was kind enough to nominate me for The Versatile Bloggers Award.   It was awarded to me in the first week of November and although I adhered to rule #1 I have failed miserably when it came to the other rules and this has been on my conscience ever since.    Now, before the year is out, I have got around to doing something about it.
Each chosen blog is given reason for the nomination and this was My Fair Lady's reason:-
"I love to find non-traditional bloggers, can ya tell? I picture my mother (only a few years younger than this blogger) sitting in front of her computer for HOURS trying to figure out how to start a blog, and it astounds me to no end that someone from my mom's generation not only knows how to blog, but ENJOYS doing it!"
In the last year of blogging I have come across others of a similar age to me, so I know that I am not really unusual.  There are friends of mine who still struggle to switch on a computer so maybe I and fellow bloggers of the same generation are in the minority – I do hope not.   She is quite right, though, I do ENJOY doing it.
What exactly is the meaning of versatile?
It is embracing a variety of subjects; turning from one thing to another and changing.
Although I started off just writing about my garden I have branched out into other things, which I suppose does make my blog versatile.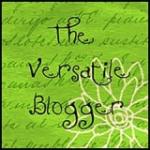 The Rules of the Versatile Blogger Award
Thank the award-giver who nominated you and link back to them in your post.
Share 7 random things about yourself.
Nominate 15  blogs you enjoy reading  (don't let that put you off, I have nominated just 5)
Inform the bloggers of their nomination.
Add the Versatile Blog Award picture on your blog post.
With rule #1 out of the way, here is rule #2:
7 Random things about me
I played Miss Prism in our school rendition of The Importance of Being Earnest.
I went to the record launch party of Sugar Sugar by The Archies in 1969.  We drank whisky out of teacups and I don't remember how I got home from London to Kent, where I lived at the time.
When I was 8 months pregnant, I passed my driving test first time.   Goodness knows how I got between the seat and the steering wheel.  It was only when I knew I was pregnant that I decided that I should learn to drive and I was taught by a London Fire Brigade Officer on his days off.
I did a charity abseil down the front of the Evening Post building in Bristol in 2002.  My legs went to jelly once I went over the side and it's something I have vowed never to do again.  I raised almost £300,  although probably because no one could quite believe that I would actually go through with it.
Along with #4 above, there are two other things I have only done once – ride pillion on a motor bike and ride a quad bike.
I don't like: (i) beetroot  because we were made to eat it at primary school and it turns everything pink;  (ii) broad beans  because my mom always served them up hard and I remember them having a horrid stale taste;  or (iii)  bananas, because they smell horrid and stick in my throat when I try to swallow them.
I wish I could play the piano.
15
5 nominations of newly found blogs
This is the tough one and the main reason I put off responding to the nomination for so long.   I follow and enjoy a great many blogs, the majority of which are garden based and whilst great blogs they do not fall into the category of versatile.   Also, for fear of missing someone out, I am loath to make a selection of just a few.   For that reason, I put off responding to this award but I am going to bite the bullet and list just 5 of the most recent blogs I have started to read and would like to recommend.
Inspired Vision

-  I first came across Cecelia Futch's blog when I started to enter into the WordPress Weekly Photo Challenge.   She always manages to write something different and always of interest.  Whilst I am very remiss at leaving comments, I am a regular reader and one of my New Year resolutions is that I will make sure that she knows I have read her posts.
Piglet in Portugal

-  There is always something to laugh about on this blog,  it is written with great humour, even when disaster strikes!   It also has a delicious Portuguese Recipe section and is well worth a regular visit.   This is blogger who follows my blog and always manages to leave lovely comments, and deserves more acknowledgement from me when I read her posts.   Piglet already has a Versatile Award but I make no apology for giving it to her again.
Mirth and Motivation

-  Almost every day Eliz Obhi-Frank writes something to make you think.   Her front page says that it is a motivational and positive Kismet blog,  and it is exactly what it says it is on the tin.   The more  I read the more inspired I feel to write and also look at my own life – it's a great blog.
Chittle Chattle

-   There is always a variety on artist Myfanwy Hart's blog, from craft tutorials to recipes.   She writes so well, and when reading her posts, it is a though she is talking directly to the reader which, in my opinion, is one of the main points to bear in mind when writing a blog.
Third Hand Art's Weblog

- This is a photographic blog and another one I found through joining in the WordPress Weekly Photo challenge.   The variety of photos are just awesome and this blog is well wortha regular visit.
There are other blogs such as Julia's Place  without whom I would not have revisited my love of creative writing.  However, she has only just been awarded the Versatile Bloggers Award so I have been beaten to it.
Chosing 15 was impossible, there are so many other's I would like to recommend but I hope you enjoy my choice of blogs and pay them a visit.