This week's Photo Challenge is …….
Geometry. 
This challenge is about the shapes and rhythms that make up the geometry of our world. Many photographs of any genre have an underlying sense of geometry, but I often like to make this the main subject of my work. I think it's the most important aspect of a photograph's success. This could be the patterns of the natural world up close and personal, or the rhythm of your local buildings.
Share a photo that means GEOMETRY to you!
Tip: Once you have found a good subject that contains an interesting geometry, try to crop tightly into the subject to make an unexpected composition. Your goal should be to create an abstract composition so the image is more about underlying shapes than a literal representation of the subject matter itself — by doing this you create art rather than a snapshot.
Above is the prompt and tips given to us  on the Daily Post Weekly Photo Challenge  posted  2 November 2012
I have learned not to beat myself up about feeling that I have to contribute to the Weekly Photo Challenge.  If there is nothing that "floats my boat" so be it.    This week, the ideal photo came to mind immediately, there was no question and I was quite excited at the thought of being able to use a photo I took recently, just because it caught my eye.
Last Saturday, I went on a Woodland Walk with friends and as we left the car park, we walked through an old farm.  The sky was the bluest of blue and there in front of me were some old rusty grain stores.
Just look at the geometric patterns the ladders make against the sky line – art rather than a snapshot.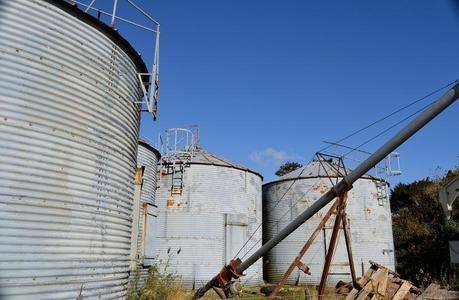 © Hurtlingtowards60 and Hurtled to 60 and Now Beyond ©AarTeePhotography Unauthorized use and/or duplication of this material without express and written permission from this blog's author is strictly prohibited