I missed posting a Six on Saturday last week and had some firm words with myself today otherwise it'll be the slippery slope of failing to post a SoS for weeks on end. It's been horribly cold again, but we are always warned that April is 'ify' when it comes to the weather,prone to sudden frost and sometimes snow. On Monday I paid a visit to the local garden center and bought several more rolls of fleece to cover lots of new growth on the allotment garden. It's very open up there and falls fowl to frost and wind burn.
1. Protecting plant babies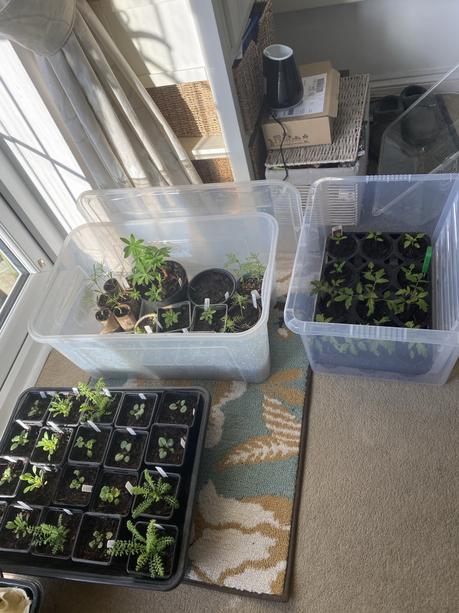 Every evening this week the lounge has been full of precious plant babies, brought in overnight to protect from cold nighttime temperature dips and frost. The front tray contains garden perennials delivered as tiny plug plants and fortunately growing exceptionally well. The majority of these will go into my allotment garden. The other clear boxes, used as mini greenhouses outdoors during the day, have tomato and peppers in one and Cosmos and Cerinthe, grown from seed, together with lupins bought bare rooted.
2. Ranunculus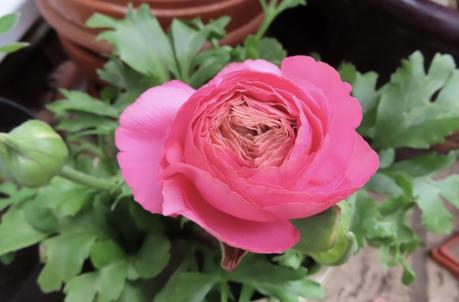 I tried many years ago to grow Ranunculus but gave up in desperation as they were slug fodder. This year, I am not sure if they are the spring plant to have in 2021 or I've just noticed how often they appear on Instagram. When buying fleece for No. 1 above, I noticed some good sized plants being put out and bought this pretty pink one. I then found trays of 6 small mixed coloured ranunculus – these jumped into my trolley and are now finding spaces in my pots. I'll show them off next week.
3. Tulip 'Exotic Emperor'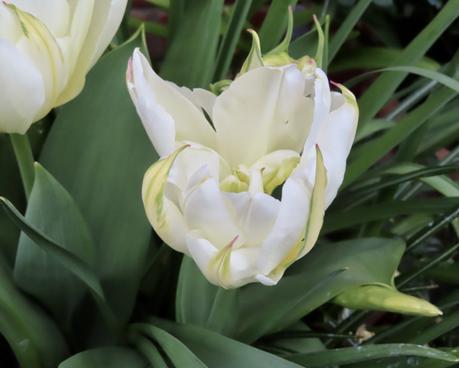 Last year I saw a lovely white spring bulb display by the lovely Harriet Rycroft, containing (i) snowdrops (ii) white crocus, Jeanne d'Arc, followed by (iii) narcissi 'Geranium' and then (iv) tulip 'Exotic Emperor'. My planting went wrong because, I suspect, I didn't use a large enough container. Everything seemed crowded out and it just didn't have the same stunning effect as Harriet's photograph. However, with the snowdrops and crocus over, and the tall narcissi coming to an end, the shorter Exotic Emperor tulips are slowly coming to the fore.
4. Tulip 'Amazing Parrot'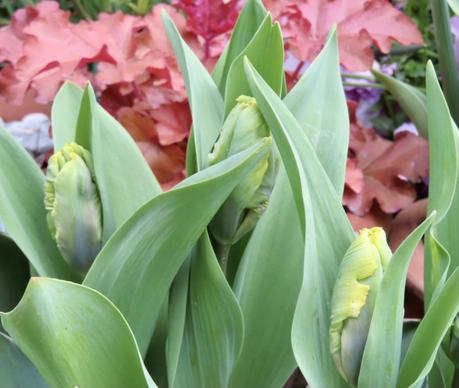 There are about 10 Amazing Parrot tulips getting ready to flower in the next few weeks. I love the frilly flower buds of the parrot varieties. Although these look as they might be yellow, they are supposed to be a cherry pink with a golden orange edge, chosen to blend with the Heucheras behind. As a number of my tulips have not turned out to be what the label said, it'll be interesting to see what happens.
5. Tulip 'Brown Sugar'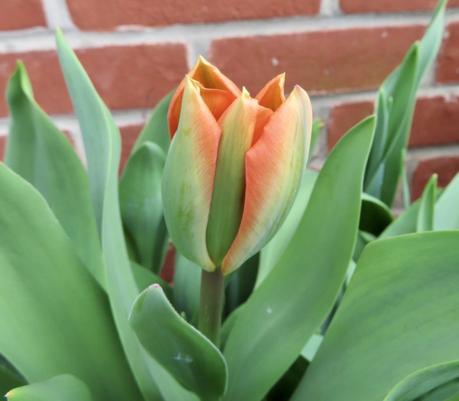 Brown Sugar is one of my constant 'must always buy' tulips. If we have some warmer weather soon, they will be flowering in the next week. This tulip is meant to flower late April/early May, but I suspect as it's sheltered and slightly warmer on the patio. It might mean that I won't have any tulips in May as they may all be over by then, which is sad.
6. Wallflower – Erysimum 'Bowles Mauve'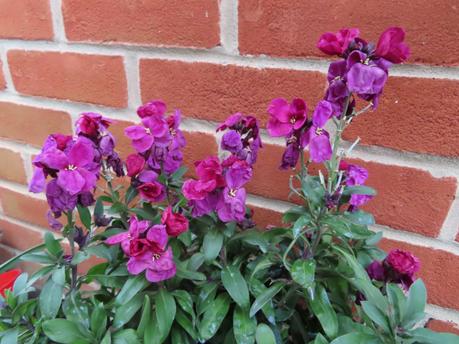 A classic perennial wallflower that I think every garden should have. This one has been in a container on the patio for several years now and looks healthier this year than it has done in the past, I have planted the dark crimson tulip 'Jan Reus' and the rose coloured 'Menton' in the same pot but sadly they are not looking nearly as good as all my other tulips. Maybe they don't like being the same bedfellows as the Erysimum.
I'm sticking to the Six rule but wanted to share some of my spring patio collection so have included it as my header photo!
Please pop over to The Propagator's blog to see what he has to show this week along with the many other contributors to his weekly meme.