The Weekly Photo Challenge is always that: a challenge to come up with something different, thinking "out of the box".  The Challenge title this week is FALL.
I have been away on a well earned break this last week in The Forest of Dean,  which is on the Welsh Border,  a beautiful part of the Country and great for walks.  The trees are just turning wonderful shades of amber and red through to yellow and the bracken is developing a lovely rusty colour.
I had a great idea to turn 'FALL'  into a two in one photo challenge and that was to take a photo of a leaf falling from a tree that was turning due to the Fall, or Autumn as we call it in England.   Easier said than done!  I am still at the novice stage with my SLR and despite discovering how to use the continuous button, and numerous unsuccessful blurred attempts,  I failed to capture what I wanted so my contribution to 'FALL' is the bracken.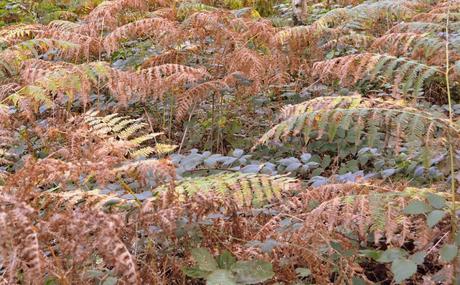 Just a few other interpretations of The Weekly Photo Challenge – Fall :
http://romceg.wordpress.com/2011/09/23/weekly-photo-challenge-fall/
http://roobo69.wordpress.com/2011/09/23/weekly-photo-challenge-fall/
http://afuzzydoglife.wordpress.com/2011/09/23/weekly-photo-challenge-fall/
http://implicado.wordpress.com/2011/09/24/weekly-photo-challenge-fall/
http://connieemeraldeyes.wordpress.com/2011/09/24/weekly-photo-challenge-fall/
http://picturesqueworld.wordpress.com/2011/09/23/weekly-photo-challenge-fall/