Funny Face (1957)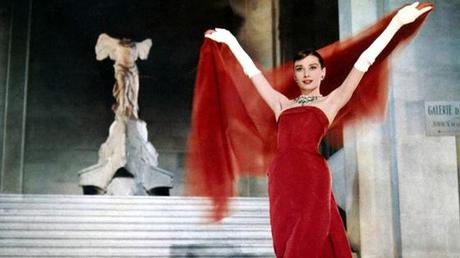 IMDB Summary : An impromptu fashion shoot at a book store brings about a new fashion model discovery in the shop clerk.
I can't resist to check out every Audrey Hepburn movie. In fact, I intend to watch all of her movies, I just love her so much. I can't pick anyone more beautiful than her in Hollywood. Earlier this year, I saw Diana Vreeland documentary, which is a documentary about a very ambitious, talented and well-known fashion editor, Diana Vreeland. The documentary mentioned that Maggie Prescott character was based on her character. She is a hard worker and respected fashion editor in the movie, and intend to make Jo Stockton (Audrey Hepburn), an idealist shop clerk as a fashion model, based on the suggestion of the magazine photographer, Dick Avery (Fred Astaire).
-
If you love fashion and Paris, you'll surely enjoy this movie, since all of the photo shoot is set on the beautiful city. I automatically linked this movie to Midnight in Paris (2011), which is Woody Allen's appreciation to the city, and wondered if the places are still the same as now.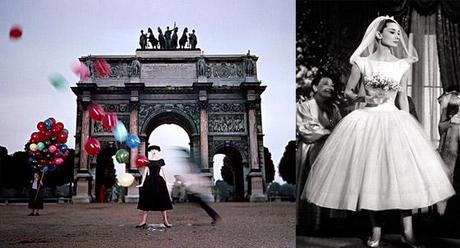 The dresses, the set, the photo shoot and Hepburn's job as model was terrific. I love her photo in front of The Arc de Triomphe de l'Étoile and her wedding dress in church. She was very natural as a model. Unfortunately, it's a little too coincidence for a shop clerk to master all quickly. She did felt awkward at first, but not the rest.
Another great factor about this movie is the musical choreography, I love the opening musical performed by Maggie Prescott and the scene in Dick's dark room where Jo and Dick danced. The musical scene in the dark cafe performed by Hepburn was progressive and futuristic, even when you see it today. It's impressive. But I didn't really enjoy the rest, sometimes felt too long and monotonous (I should tell you that musical isn't my favorite thing).
The rest wasn't too impressive for me. The love story specifically, was predictable and cliche. I've seen better chemistry of Hepburn and another actor (you can say Gregory Peck in Roman Holiday, tough to compete with that). I was expecting Prescott to be a little more authoritative like Meryl Streep in Devils Wear Prada, it could be a far better interesting addition to the story. Also, I couldn't quite figured why all of them staying in Paris with different hotels, shouldn't they be in the same hotel to make the coordination better?
For what it's worth, you can check this one out if you love Hepburn, fashion and Paris. I still love Audrey Hepburn and will check out other movies starred by her.
Movie Score :

–
Ender's Game (2013)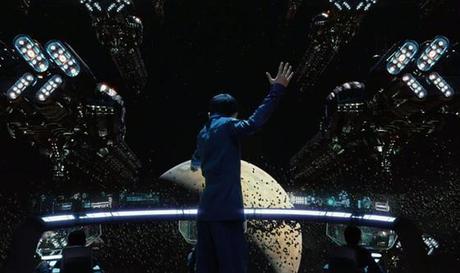 IMDB Summary : The International Military seek out a leader who can save the human race from an alien attack. Ender Wiggin, a brilliant young mind, is recruited and trained to lead his fellow soldiers into a battle that will determine the future of Earth.
For you gamers and fans of sci-fi, as the futuristic visuals were excellent. Ender's Game fits for boy teenagers and little boys who dream big, they can relate to Ender (Asa Butterfield), who previously starred Hugo (2011) and The Boy in the Striped Pajamas (2008). Ender shows talent of a leader, interested by Colonel Graff (Harrison Ford) and Major Gwen Anderson (Viola Davis). During his training, Ender met many tough people set for competition like Bonzo (Moises Arias), who starred also in Kings of Summer (2013) and potential best friend like Petra (Hailee Steinfield). But during his tough learning, he always remember his sister, Valentine (Abigail Breslin).
The way Major Gwen Anderson knowing Ender's way of thinking through a mind game is interesting, but quite too deep. And sometimes I wonder how tough you could direct a young man, while he's still too young and should experience the joy of being a boy. Ender's Game is not about it, but more about how talent could be a burden and leader have a big responsibility.
I know the theme is futuristic, but they didn't show much expression as most of the time the actors were looking cold and ambitious. The role for Ender is hard, as the end he is hardly a boy anymore but a future leader, and though he's a survivor but inside is a kind soul. Perhaps it's too much range for Butterfield. This point can be explored as an emotional side of the story and can enrich the whole movie.
Ender's Game have excellent cast, aside from Harrison Ford, Viola Davis, there's Ben Kingsley. Love seeing the range of Moises Arias as a bullier, from previously an awkward and loony kid in Kings of Summer. Also nice to see Abigail Breslin as a teenager now, but sometimes she seemed like a love potential for Ender rather than a sister. Either way, you can expect great visuals from outer space and action scenes. It's an interesting sci-fi movie but just lack of emotions.
Movie Score :