How was your weekend? I was forced to do bed rest, not feeling so well. Sometimes Award season can be exhausting to keep up with the new films. Now I can just focus on last year's rom com. Or, just another movie I am curious into. I haven't posted the best of 2014 yet, please be patient
I have seen two or three romantic comedies lately, but I chose to review this one as it's one I liked the best, from the story and the cast.
Two Night Stand (2014)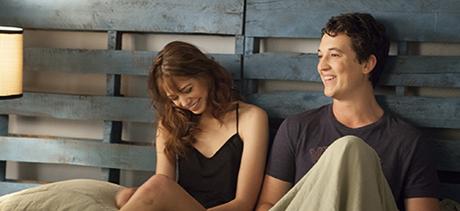 IMDB Summary : A snowstorm forces two people who made an online connection to unwillingly extend their one-night stand as the blizzard goes through the night.
I have grown to like Miles Teller more everyday. He continued to prove to be one of the best young actor around. Have you seen him in Whiplash, or The Spectacular Now? He showed some potential. He's got that irresistible inner confident blended with charm which makes him easy to like. But Teller here isn't the first story to be told in this movie. He is actually the man that Megan (Analeigh Tipton) pick for a one night stand.
This isn't a regular Megan, this is the desperately-trying-to-get-over-a-fiancee Megan, who pushes her after running her fiancee with another girl in front of a club she couldn't get into. The real Megan is a loyal monogamous girl. But like every girl dealing with major break up and heartbreak, one can do drastic thing just to wash the pain for a moment. What makes it worse, is that Megan had just graduated and currently unemployed. She becomes a little bit of a wet blanket of her had-it-together roommate, Faiza (Jessica Szohr).
Alec (Teller) is not a bad catch himself. He's a gentleman, funny, easygoing and seem perfectly normal. They enjoyed their night together, but in the morning Megan seems to be 'forced' staying in his flat a little while longer because the snowstorm comes. Megan, however, irritated by how Alec seem to imply her, as a less-respected girl or a sl*t which Alec clarify never meant to mean it that way. It is the label that Megan refuses to have. She found a magazine article talking about that label she don't want to be and throw it in the toilet. Bad move, because that 'little' action clogged the toilet and make things worse.
 -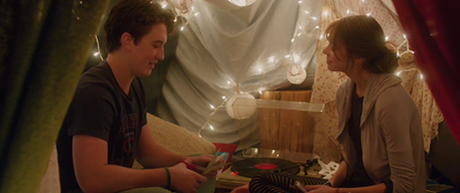 "I think women are more honest, actually, when they're trying to hurt somebody's feelings."
You probably can guess it's plot, since it happened in almost every romantic comedy. Yet Two Night Stand isn't bad, nor isn't today's The Notebook either. It is today's real picture of dating situation, when one person can just have a one night stand over a quick chat in a dating site. It can be casual, but in reality it rarely ever does. Every people has to have a baggage, or an ex boyfriend/girlfriend, or a terrible past. Yet there's something quite classic inside Megan and Alec's character, like stating that behind every person lies someone who just need somebody to rely on.
I love the smart and honest dialogues, and how Alec represents guys in general who are logic and simple. While Megan represents every (most) girls; emotional, detailed, and can overthink over small things. And since they are two strangers, they decided to open up and communicate what's wrong with the other gender, and their expectations…over sex.
It's hard to put two actors together in one set for 2 hours or one movie, unless it has one great script and talented actors. Two Night Stand is well aware of that. I always liked Analeigh Tipton since Crazy, Stupid, Love, even though her character isn't really far from that film. I have seen better chemistry, but the two make a cute young couple. This movie can be a good movie date, and so easy to like and digest.
Score :