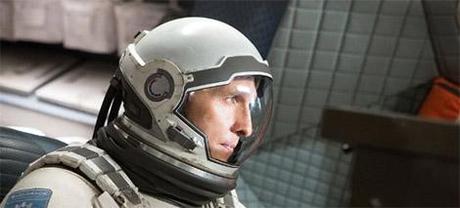 IMDB Summary : A group of explorers make use of a newly discovered wormhole to surpass the limitations on human space travel and conquer the vast distances involved in an interstellar voyage.
The long awaited movie, especially for Nolan fans, Interstellar has finally reached the cinema. I've written before that I am not one of Nolan fans, but I admire how he can transmitted his gigantic ideas to screen and selected great casts for his movies. I was afraid that Interstellar might be too ambitious, that I might be overstuffed like some of his (I personally love Memento from all of his movies, and still is), but fortunately I didn't.
The idea of NASA is looking for another planet for humans to live in is possible. I mean, one of the reasons why Earth isn't comfortable anymore, is because we consume too much. Maybe we should stop littering and start more conserving, making less buildings and more building forest. That is what I thought when I see Cooper (Matthew McConaughey) and Amelia Brand (Anne Hathaway) really fought their way in and out galaxy to find a proper planet.
Cooper has to leave his two children; the eldest Tom (Timothée Chalamet) and the smartest, Murphy (Mackenzie Foy) to fly Endurance, the ship that takes the team on their mission. It is the hardest for Murph. She has tighter bond to his father considering their interest to science and high curiosity, and the fact that she's the youngest.
We used to look up at the sky and wonder at our place in the stars, now we just look down and worry about our place in the dirt.
With his job, Cooper, Brand and the team must visit several scientists who have researched the chosen planets. But they are in no luck in most of them, and each have their own atmosphere, different ground, danger and could passed more time in Earth hour. Some of the obstacles are the galaxy's field area, technical issues and losing hope. Cooper also make time to see the video message his children sent, which brings him emotional. Murph only have sent her video after she is grown up (Jessica Chastain) and joined the NASA.
When Professor Brand (Michael Caine) is dying, he confessed that the mission have different purpose than what everyone knows. When the Professor died, Murph become more hateful to her father. It is shown to the video she sent to Endurance to tell Amelia that her father just died. The video makes Cooper re-prioritize his actions and decide to go back to Earth. But he is far too deep into the mission to just go back.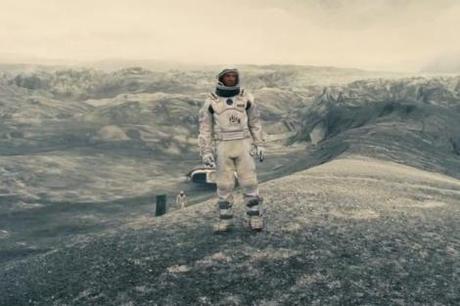 Interstellar's script was written for four years. People have been connecting it to 2001 : Space Odyssey. But since I haven't seen it, it reminded me of Armageddon (how a father leave his daughter to save the world) and Gravity (flying and floating in the outer space). The concept was definitely ambitious and seem scientifically possible. But what about the little details? I admit that when the scientists were discussing the relativity, the worm hole and all that terms of space and galaxy confused me. Since the topic is scientific and complicated, how many of us can really confirm if the outer space and galaxy is as accurate as pictured in the movie? An article in The Guardian explains how some facts in the movie might not be true in reality.
Aside the accuracy and the whole concept of saving the humans, the movie somehow is a masterpiece itself, while not perfect. Like the previous Nolan movies, it was supported by amazing visuals and CGI while not forgetting engaging us emotionally. Not just Cooper and Murph, but also Amelia Brand with her life choices and father's dream. Even the hidden antagonist in the movie reveal his pain and frustration quite moved me.
After being an escaped convict in Mud and a struggling AIDS patient in Dallas Buyers Club, Matthew McConaughey is the central character in Interstellar. A father and a high-spirited person with certain curiosity over unusual things, which he usually can explain with science. Case in point, Murph's room which contains book racks over the wall where Murph thinks occupied by a ghost. It is a real life turning point for him, when he thinks his life will be dedicated to farming when an opportunity to be the pilot of Endurance occur. I would have never thought in my life that the guy who is the owner of a strip club in Magic Mike would now suddenly be a scientist. I used to think he'll be stuck being in a role as womanizer, but McConaughey can really be anything he set his mind to.
I am one of the people who's quite cynical with Hathaway after she won the Oscar, but as Brand she's being one of the modest, smart and sensitive woman. She wasn't provocative, but more of a kind heart. When she's not being fierce, she appear to be naive and fragile. But I couldn't help but wish that someone like Carey Mulligan or Emily Blunt might be more fit. It seems Nolan still keeping his favorite cast.
I absolutely enjoyed Jessica Chastain as the adult Murphy. Of course she's the best of being one smart and beautiful redhead. While Matt Damon as one of the scientist observing one of the chosen planets surprised me with his character. I discovered that Irrfan Khan nearly cast too, but he couldn't because of scheduling conflict. I kind of wish he could join the cast.
I think what really bugs me about Interstellar is (one of why I find it hard to like Nolan movies) the difficulty adds when you watch a complex movie raising a topic with terms you never know before, digesting it to your head while you read it with subtitles. I wish I don't have to write this sentence, as it might reveal that I was not watching it with such sharp mind and maybe I am not that bright on that field. But I do wish Nolan use a more generic terms and simpler script to make us non-science audience understand more. That said, when I pointed that Guardian article, I somehow can capture how the movie might just presume such world out there.
Despite all of that, I still have the urge to clap when the credit title showed on screen. Nolan with its imperfections still blew me away, for showing me this story could happen now as I write it. Also, for showing the things we presume fantasy or ghost can be scientifically happen, while my logic said 'Can this really be happening?'. Let's not forget Hans Zimmer's cold hands to create such amazing score.
Final Score :