There was no weekend roundup last week as we had a pretty boring weekend due to the rain! Our roads were so bad we didn't go out but don't worry, I am back with another one this weekend! 
Warren and I had a little night away this weekend at Woodbury Park Hotel in Exeter. If you follow me on Instagram, you may already know this as I have been constantly Instagramming pictures, sorry about that! We were lucky enough to win a competition on Hayley's blog back before Christmas that was a free stay at any Classic Lodge, so we were very excited! We chose Exeter as it is only about an hour away, so not too far.
The hotel itself was very luxury and the decor was gorgeous, we checked into our room in the Warkidon Suite that was very clean complete with all the necessities; power shower, hairdryer, refreshments and of course a big very comfortable bed. Included in our stay was Dinner and Breakfast so we enjoyed a gorgeous meal in their Atrium restaurant and we dressed up for the occasion. I wore my new midi skirt and my blush blouse with my new heels from New Look. They are a little too big for me so I need to get the gel insoles to help shoes fit or maybe some of the long life heel pads I have seen around, whichever will do the trick! Luckily, we didn't have far to walk so there were no embarrassing moments!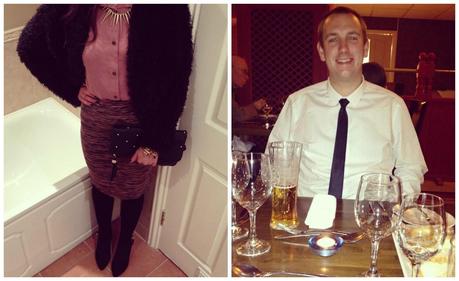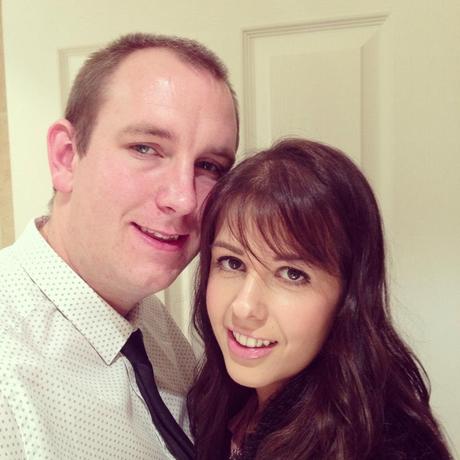 (I know I look slightly weird, I was midway through a sentence, haha!)
Warren wore his new shirt and tie from Next and looked very handsome! We enjoyed a few drinks before we were shown to our table and nibbled on some fresh bread with olive oil and balsamic vinegar before our 3 course meal. 


(left; Ham hock terrine starter, Right; Steak & chips)

 
Our starters were from the A la Carte menu and were wonderfully presented as well as tasting amazing.  For our mains, we both went for the Steak and chips and oh my, it was the best steak! The chunky chips were perfect as well, crispy on the outside and fluffy on the inside. 



We are both chocoholics so ordered desserts; Warren went for the banana fritters with mango ice cream and chocolate rum sauce and I went for the chocolate and salted caramel tart with creme fraiche. Both were delicious but we decided Warren's dessert was the winner, the chocolate rum sauce was soo scrummy!  
We had a few more drinks at the bar after our meal before making our way back to the room. After a great nights sleep, we woke to get ready for breakfast. We both went for the buffet style english breakfast with toast and lots of coffee. Just as we expected it was delicious! Again, after finishing we sat for ages just talking and drinking copious amounts of coffee. It was so lovely to just sit and do nothing as it's a rarity when you become parents as I'm sure most of you know!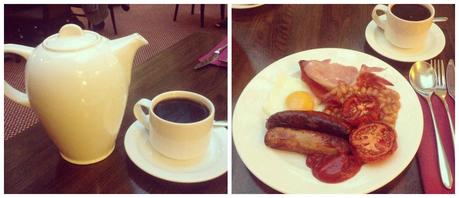 We checked out and decided to go into Exeter town for a spot of shopping! I wore my new obsession; my leopard print cardi from Primark and all my gold jewelry. Love, love, love! I picked up a few home bits and some make-up in Topshop, including their gorgeous cheek duo in 'Desert Sun'.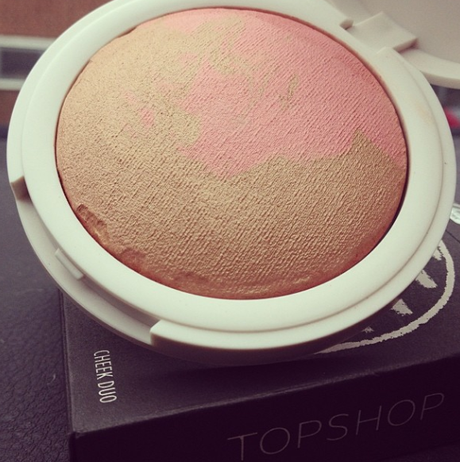 I can't wait to wear it, I am loving a peachy pink cheek with lots of glow lately so this looks perfect! After shopping we headed back to my mums to pick up our little sweet pea who was such a good girl and had lots of fun while we were away! She also learnt she can slide on the vinyl like a little wiggly worm, what a monkey! You can see the video of her doing that on my Instagram here. 
This evening I am going to have a nice hot bath when Sienna is in bed and then crack open the mini eggs! We have had a lovely weekend and definitely plan on going back to Woodbury Park Hotel, maybe for a bit longer and enjoy some of their spa treatments! If you don't live too far from Exeter or would like to go and explore what they have to offer, we would really recommend staying at Woodbury! 


Did you have a lovely weekend? Where do you like to have a weekend away?

*contains a sponsored link.
Like me On Facebook - Follow me on Twitter - Follow on Bloglovin'