Whew, what a weekend!  I got SO much done but kind of feel like I need another weekend day to recover a bit. :)  I'll break this up into a couple posts rather than have one epic one.  The first exciting thing that happened this weekend was the delivery of my brand new refrigerator yesterday!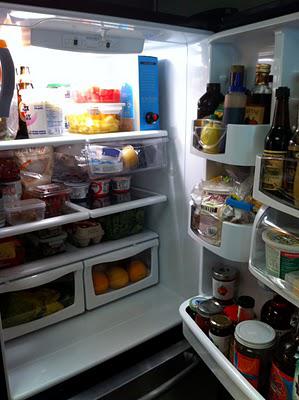 I'd been eating out of the freezer trying to clear stuff out the last week so once the new fridge was in it was time to fill it up!  Saturday was spent installing the new towel racks and slider cabinet drawers I picked up at the local hardware store tent sale so I didn't do much cooking but I made up for it today!
My first creation was the baked oatmeal I've been wanting to try for awhile now from Super Natural Every Day (you can find the recipe here if you don't have the book but you should definitely buy it if you don't have it yet!).  I'd been holding off on making this since I didn't know how I was going to make it through the leftovers on my own but after my parents gave it a try and said it froze well I took the plunge.  The verdict?  It was good but probably not something I'd make on a regular basis.  I see this as being a good solution for feeding oatmeal to a bunch of people and would make it for company, but for myself I'd rather just make a bowl of oatmeal with the same ingredients and probably be happier.  Still glad I gave it a try though!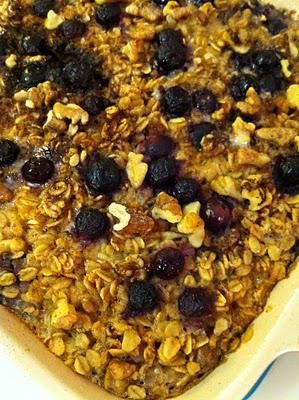 For lunch I decided to try another recipe from my 'Recipes to Try Soon' evernote file - this chana masala from orangette.  It sounded fairly quick from the recipe but I soon found out that I had greatly underestimated the time involved.  Some of the steps that sounded quick ended up taking quite awhile to do properly - I probably spent an hour and a half on this total and didn't eat lunch until 2pm!  It was worth the effort though, I'll be adding it to the rotation (and planning ahead better next time).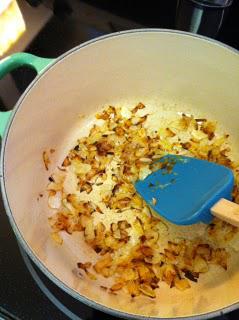 This was a little heavy on the salt for me so next time I'll add less salt and/or use no salt added diced tomatoes instead of the whole tomatoes which I could only find in the full salt version.  I think diced would work just as well though and be easier.  I also ended up having to cook for an extra 20 minutes at the end beyond what the recipe called for to get things to reduce and to get the chickpeas sufficiently softened.  I'm not sure if it's a difference between gas stoves and my electric one or something else, but cooking on low was not going to cut it - I ended up doing the entire recipe around medium.  Despite these little quirks I highly recommend you give it a try!