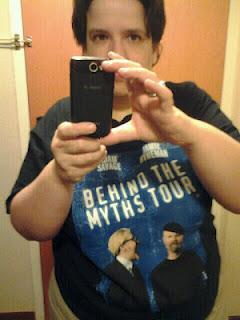 My first new XL shirt in many years
Had some really good weight related things happen this weekend while in Hartford, CT with my stepson and hubby. For the last month or so I've been trying on hubby's XL shirts and on a lark I tried on one if his shirts while in the hotel. It fit! So I purchased my first new XL shirt in probably about ten years at the live Mythbusters' show we went to Hartford to see. I haven't worn an 18/20 since my early 20's which would put me somewhere in the mid 1990's! Also, when we went to the show we walked from our hotel. According to my husband, I out walked my 20something stepson!
When I was in Hartford I wasn't afraid to be in pictures. In fact, I asked to have pictures taken of me! When I was really heavy I would ask to be photographed from the front and from about mid chest up. Now I'm not afraid to be photographed from any angle.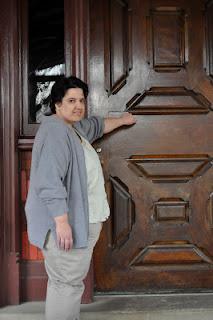 Me at the Mark Twain House
When we toured the Mark Twain House there were three stories and of course there was no elevator. Regardless of my progress, I was a little concerned, but I did it! I did not have any difficulty whatsoever. I kept up with the crowd going up the stairs! I also kept up with the crowd walking.
So it was a great weekend! On Monday my weeklies reset and I had some Girl Scout Cookies. I haven't had any Girl Scout cookies since I started WW. I ate a whole row of them. A whole row of them is 1/4 of my daily points. I used to finish one box of those in two days max. I'm sure sometimes I ate a box in one day. That would equal 3/4 of my daily points. It's just amazing how much my life has changed. I'm so happy and so proud of myself!