As you probably guessed from the last post, the first week started extremely well and I couldn't wait to start riding. However, there was a small disruption on Monday! I went to the doctor to look at my toe, which has been infected for a few weeks and still not getting better. Leonie sent me and told me not to come to the barn until it had been looked at, so of course at 7.30am Monday morning I was there at the doctors trying to explain my situation. Not so easy when none of the nurses spoke much english! Thankfully the doctor was could understand most english, and came to the quick and definite conclusion that I needed to have an operation.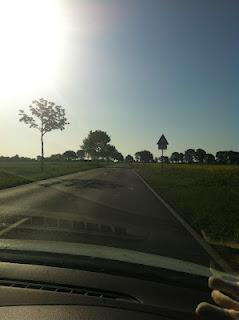 Driving on the other side of the road -  eek!
Surely most people, when they are told that they need an operation, think that they need to be booked into a hospital within the next few weeks, be put to sleep, wake up after and spend the day in the hospital bed eating jelly. Well that is what happened last time I had this operation (on another toe!), but no, here in Germany, they tell you to wait a few minutes, then bring you back in with scalpels and tongs set up ready to get stuck in to your toe.
You can imagine my disbelief that they were actually going to 'operate' right then and there, though I wasn't told that it was happening now either and so I was sitting there at their mercy just waiting to see what would happen. So I lie down, two needles to anaesthatise my toe are stuck in my foot (which HURT!), the doctor said "do you feel pain?" whilst poking me with a knife in my toe and I said no, and off he went, pulling and digging away. Two minutes later, it was done. That is definitely German efficiency for you!!
So it was great that I got my toe fixed after weeks of limping, but on the downside I couldn't ride yesterday or today, but I'm hoping I can start again tomorrow. I am suffering from absolute frustration not being able to go to the yard, and I can't even get rid of my energy by going to the gym - I can hardly walk! God forbid if I ever fall off and something really bad happens and I end up needing bed rest.... :/
So the few days that I did ride earlier in the week were really good. From the first ride on Seb I could already tell a difference in him, that he was a bit more focused and more in front of my leg. I had Leonie and Martin (who has been riding him) teach me on him, and the relief I felt that I was actually being taught the way that I know best on Seb was huge! Finally, I can ride him in a way that suits me and works. It seems to be that there is a training system ingrained in every horserider, whether it is just natural or if it comes from the way you were taught from the beginning. Leonie felt that she was 'home' so to speak when she started training with Johanne Hinnemann, and I definitely feel like I'm 'home' when I train with Leonie. She is a firm believer in that, which is why I never seem to excel with any other trainer other than her, because her way of training just makes complete sense to me and I know exactly what I'm doing and what she is telling me.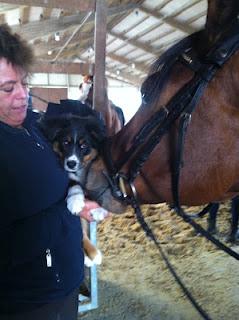 Chad cuddling the barn's new puppy
Chad as always is fabulous. He is the most amazing horse I have ever come across. Not only just to ride but he has such a sweet nature and makes friends with absolutely everything, especially dogs! He has not one single bad bone in his body. We turned him out with Seb on Sunday, which was interesting as Seb has never been out with another horse before, but Chad is so chilled and kind we thought they would be fine. They got on pretty well, having a bit of fun but never being mean so that was good! It is amazing how similar they look though... I really did have to think hard about which one was which when I was watching them from across the paddock! At the barn they call Seb "the big brother of Chad", and also the "woop woop cheerer" because every time something happens in the arena he squeals! That is getting fixed now though, he is working seriously hard so there is no chance for squealing!
Seb and Chad... or Chad and Seb??? ;)
I still haven't found anywhere to live, but I'm waiting to get a couple more numbers to ring. In the mean time I will just have to stay at the Sportpark, which is fine by me I love it here!
I also got a bike! I thought I'd fit in with the Germans and get one to ride around town and to the yard. When I went to try it though I realised I couldn't actually ride one very well at all... I'll just have to practice. I'm picking it up today, and I need to figure out a name for it, just like my car Patrick. I was thinking Benjamin, or Bruno, or Bjorn... A German name would be quite suitable, but I think I need to ride it a couple of times to see what name suits him :)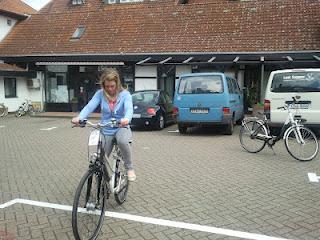 Trying to figure out how to ride a bike....
I will report back with further training details once my toe gets better and I can get stuck into riding! I am so annoyed though, I was supposed to go out to a rock club tomorrow night with everyone from the barn but I really don't think I could cope with standing and dancing on it all night, plus everyone stomping on it - ouch! Next week though, the fun will start :)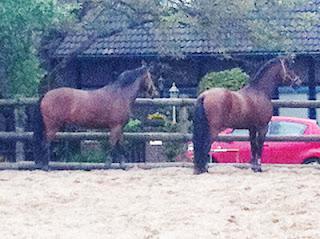 Chad and Seb again (Chad on left, Seb on right... I'm pretty sure... lol :P)