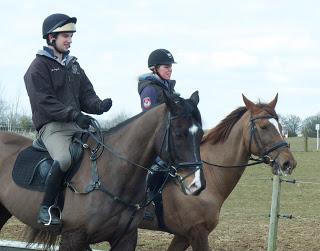 Discussing XC strategies
I hope everyone had a lovely Easter weekend and managed to get some time to catch up with family, or even with themselves for those who run like Duracell bunnies. I was working all weekend, however managed to have Easter Monday afternoon off to have lunch with my Grandad and took advantage of my food coma to catch up on some much needed sleep.
Easter Sunday was spent doing something very new and exciting for me, cross-country and showjumping schooling! My Student Will his event horse JJ, and I took Julius out to
Boomerang XC
 to test out JJ's cross-country skills and run Julius through a showjumping course (I'm certainly not brave enough to attempt those cross-country jumps yet, nor is Julius!).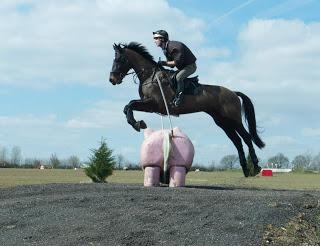 Super-horse JJ
Will and JJ were absolutely amazing, cross-country is really where Will's talent shines. JJ is a super-talented horse too so put them together and we have a dream combination - how exciting! He is getting ready to do a Paul Tapner clinic this week which will be very helpful, and his first event is this Sunday. Full steam ahead!
Julius must have thought he was on another planet being out in the middle of a field filled with odd-looking logs and coloured obstacles. He certainly showed his uncertainty by mainly moving sideways when following Will to help him with the jumps. However he had his bit of fun out there by having a splash in the water. I was amazed he walked in first attempt, considering the second he heard a splash from the other horses going through it he had a nervous breakdown. Safe to say he didn't worry about any splashing noises once he cantered through it.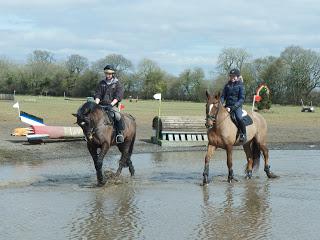 Having a paddle :)
After Will had smashed it out on the cross-country, Julius and I went into the showjumping arena to see what we could improve on when doing a course. I'm getting the hang of the whole jumping position thing and getting my lines right, now I just need to go a bit faster and Julius needs to get stronger and more uphill to be able to lift his shoulders up over the jumper easier. He is the perfect horse for me to get started on though, as he just goes over anything in any way he can. Sometimes it isn't pretty but he gets over it!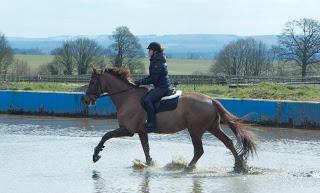 So that was our lovely day out on Easter Sunday, which we will definitely start doing more often. I'd really like to try out the cross-country stuff when I'm with my jumping trainer, Leonard, just so I don't err, kill myself!