"Somewhere, something incredible is waiting to be known." ~ Carl Sagan
NOTE: I spend my Wednesdays Unplugged from appointments. It's my day to stay home, enjoy cooking and welcome our kids and grandkids for dinner in the evening. We end our meal with quotes from the Norwegian 'Quote Cup' passed on to me from my grandmother. I share a quote and a recipe here each week, and sometimes some photos of family fun. I love trying new recipes...and love getting recipes you would like to share!

Last Saturday was a beautiful day, and my husband got to go exploring with our son and grandkids... a perfect day to be enjoying spring! I love the joyful abandon reflected in their faces and bodies.
RECIPE OF THE WEEK
WILD RAMPS WITH SCRAMBLED EGGS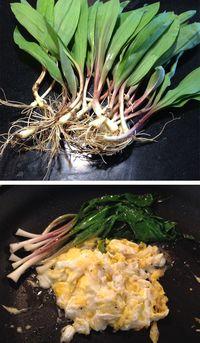 While our grandkids were running around outside last Saturday, Angela and I were busy at an open house nearby. She had been out exploring earlier, and brought me a bag of fresh ramps she had foraged. I confess to having no idea what they were... even gave her a big laugh when I later told her I was looking for more information about them and couldn't find anything on 'wild rants'! It turns out RAMPS are a kind of wild leek... delicate, onion-y, garlic-y. She said she usually cooked them simply, most often with eggs... so I followed her advice so I could really savor their flavor. I simply trimmed the ends and cooked them quickly in olive oil with a little salt and pepper and ate them with scrambled eggs. They were a delicious treat... something available only at this time of year! Thank you, Angela, for introducing me to something new... I love discovery!
Want to find some wild ramps of your own? Ask Angela where to look, and check out her related posts below!
Sharlene Hensrud, RE/MAX Results -Minneapolis Realtor Who Cooks
RELATED POSTS
Urban Wildlife: Maple Syruping
It Came from the Caves...