"Education's purpose is to replace an empty mind with an open one." ~
Malcolm S. Forbes
NOTE: I spend my Wednesdays Unplugged from appointments. It's my day to stay home, enjoy cooking and welcome our kids and grandkids for dinner in the evening. We end our meal with quotes from the Norwegian 'Quote Cup' passed on to me from my grandmother. I share a quote and a recipe here each week, along with photos of family fun. I love trying new things... send recipes you would like to share!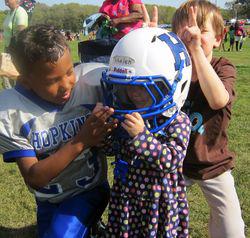 We had a fun Saturday afternoon with grandkids last weekend, including going to a 3rd grade football game. Our three-year-old granddaughter thought trying on her big cousin's helmet was pretty cool! Later the kids had fun exploring the woods and climbing the hill in our back yard... reminded me of hours spent exploring the woods behind our farmhouse when I was a kid. As my wise husband advised, kids don't need to have a playground to have fun running and playing outside!
RECIPE OF THE WEEK
When I was looking for inspiration last week our son said he felt like Asian. Good suggestion. I don't cook Asian very often because it's so easy to get good takeout. I have been enjoying the leftovers this week. I really liked this vegetable fried rice... can add some meat or more vegetables if desired. Most mixed vegetable medleys include green beans, but I really liked this blend of only corn, peas and carrots. I prepared ahead of time but did not refrigerate... reheated in the oven about 30 minutes before serving.
VEGETABLE FRIED RICE
1/3 cup canola or peanut oil, divided
1 onion, diced
Salt and pepper
3 cloves garlic, finely chopped
2-inch piece of fresh ginger, peeled and finely chopped
3 whole green onions, thinly slice on the bias, white and green separated
12 ounce bag frozen corn, peas, carrots
4 large eggs, lightly beaten
4 cups cooked and chilled Jasmine rice, grains separated
Heat a large nonstick skillet over high heat. When hot add 1 tablespoon of oil. Add the onions to the pan, season with salt and pepper, and cook 1-2 minutes until onion is fragrant. Add the garlic, ginger and green onion whites and siir-fry until fragrant, about 30 seconds. Add the frozen vegetables and cook until just defrosted but still crisp. Transfer to a big bowl.
Return pan to heat and add 2 more tablespoons of oil. Add the eggs and season with salt and pepper. Stir the eggs constantly and cook until almost set but still moist, then add egg to the bowl. Break the eggs up with a wooden spoon or spatula.
Return the pan to the heat and add the remaining 2-3 tablespoons oil. Add the rice to the pan and use a spoon to break up any clumps. Season with salt and pepper and stir-fry the rice to coat evenly with oil. Stop stirring, and let the rice cook undistrubed until it gets slightly crispy, about 2 minutes. Stir the rice again, breaking up any new clumps. Add the green onion tops. Transfer to bowl and mix all ingredients together.
Sharlene Hensrud, RE/MAX Results -
Email
- Minneapolis Realtor who cooks