NOTE: I spend my Wednesdays Unplugged from appointments. It's my day to stay home, enjoy cooking and welcome our kids and grandkids for dinner in the evening. We end our meal with quotes from the Norwegian 'Quote Cup' passed on to me from my grandmother. I share a quote and a recipe here each week, and sometimes some photos of family fun. I love trying new recipes...and love getting recipes you would like to share!
"Courage is what it takes to stand up and speak; courage is also what it takes to sit down and listen." ~ Winston Churchill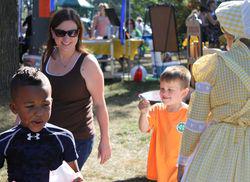 We have been having an unbroken chain of glorious days, including perfect weather for Welcome Days this year. It never ceases to amaze me how my husband is able to lead and inspire such an outstanding group of team leaders and hundreds of volunteers to transform the church park into a county fair every year with such ease and grace!
RECIPE OF THE WEEK
I was craving vegetable chili last week, but wanted to try something different from my old standby. Found this recipe at Epicuious.com.
VEGETABLE CHILI with corn
3 tablespoons olive oil

1 large onion, coarsely chopped
6 large cloves garlic, chopped
3 14 1/2-ounce cans diced tomatoes in juice
1 4-ounce can diced mild green chilies
3 tablespoons chili powder
1 tablespoon ground cumin
1 tablespoon dried oregano
2 15-16-ounce cans beans (kidney, garbanzo...), drained
2 bell peppers (green, red...), cut into 1/2 inch pieces
1 10-ounce package frozen corn
May serve with sour cream, grated cheddar cheese, rice
Heat oil in heavy large pot over medium-high heat. Add onion and garlic; saute 5 minutes. Add tomatoes with juices, green chilies, chili powder, cumin and oregano. Cook 10 minutes to blend flavors. Add beans, bell peppers and corn. Reduce heat to medium-low and simmer until chili is thick, sitrring occasionally, about 35 minutes. Season to taste with salt and pepper. Serve with sour cream and grated cheddar cheese... over rice if desired.
Sharlene Hensrud, RE/MAX Results - Email - HomesMSP.com