"Time stands still best in moments that look suspiciously like ordinary life." ~ Brian Andreas
NOTE: I spend my Wednesdays Unplugged from appointments. It's my day to stay home, enjoy cooking and welcome our kids and grandkids for dinner in the evening. We end our meal with quotes from the Norwegian 'Quote Cup' passed on to me from my grandmother. I share a quote and a recipe here each week, and sometimes some photos of family fun. I love trying new recipes...and love getting recipes you would like to share!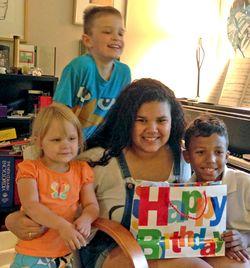 It seems that everything slows down and time almost stands still the end of August... about the time of the State Fair and back-to-school, when the dog days of summer set in. It's amazing how empty the streets and highways feel this week as people head out for end of summer vacations. August is also a big birthday month in our family. We celebrated our granddaughter's 15th birthday last week... where did the time go?!
RECIPE OF THE WEEK
This week's recipe is from my cousin Ardith in Colorado. She said she just threw it together, but it was so satisfying, filling and healthy that her daughter asked for it for lunch every day when she came over to nurse her infant son mid-day! I tried it this week and think I may have discovered my go-to lunch as well!  The recipe made about six meals... I packaged them for quick microwave lunches.
SIMPLE & SATISFYING ONE-POT QUINOA, BEANS & GREENS

1 cup quinoa

1 can organic pinto beans
1 can organic black beans
1 can organic whole kernel corn
1 can Rotel tomatoes
1 teaspoon chili powder
Baby kale, chopped
Baby spinach, chopped
Favorite cheese (Bellavitano Gold) or cheese substitute (Daiya brand cheddar)
Pour 1 cup quinoa into a fine mesh strainer. Rinse with cold tap water while running your fingers through the seeds until there is no sudsy froth remaining. (That froth has a bitter taste, is actually natural bird and insect repellant saponin which should be washed away.)
Pour the rinsed quinoa into a microwave safe bowl or rice cooker. Add two cups water and 3/4 teaspoon salt. Cover and cook on high for 5 minutes. Add 1 tablespoon olive oil and give the quinoa a quick stir. Cover and cook another 5 minutes. Remove from oven, uncover the bowl and let it set about 10 minutes to absorb remaining water.
While quinoa is cooking, mix and heat beans, corn, tomatoes and chili powder in a large pot. Add quinoa and mix. Before serving, add one handful each of chopped baby kale and baby spinach. Top with freshly grated cheese if desired.
Sharlene Hensrud, RE/MAX Results -
Email
- Minneapolis Realtor who cooks