"Bring good!" ~
Michael J. Baynes
NOTE: I spend my Wednesdays Unplugged from appointments. It's my day to stay home, enjoy cooking and welcome our kids and grandkids for dinner in the evening. We end our meal with quotes from the Norwegian 'Quote Cup' passed on to me from my grandmother. I share a quote and a recipe here each week, and sometimes some photos of family fun. I love trying new recipes...and love getting recipes you would like to share!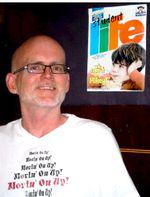 Met last night with siblings of a dear client I met when I helped him buy his first condo in 2001. He was recently killed in a tragic accident and now, instead of selling his current condo to buy another one as he had been planning, it will simply be sold. It moved me when I saw the small chalkboard hook that held his keys. It had a message written in his own hand, which was the last thing he saw as he headed out the door. It simply said, "Bring good!" He worked in student life at St. Catherine University, but Mike brought life and good to everyone he encountered.RECIPE OF THE WEEKI tried this recipe from the Food Network Magazine a few weeks ago when I was looking for some different dessert bars. They were good, but very rich! I used a 9-inch square pan as indicated in the recipe but found it got too thick and heavy on the edges... would use a bigger pan next time (would need more marshmallows, 1/2 for each bar).
SALTED PRETZEL-MARSHMALLOW BARS
1 1/2 cups broken pretzel pieces

1 1/4 cups all-purpose flour
1 1/2 teasoons backing powder
1 teaspoon kosher salt
1 stick unsalted butter
1 1/2 cups packed light brown sugar
2 large eggs, lightly beaten
2 teaspoons vanilla extract
Cooking spray for the pan
TOPPING
8 marshmallows, halved crosswise
1/4 cup peanut butter chips
1 teaspoon vegetable oil
1/4 cup semisweet chocolate chips
Position a rack in the middle of the oven and preheat to 350 degrees F. Line a 9-inch-square baking pan with aluminum foil, leaving a 2-inch overhang on all sides. Lightly spray the foil with cooking spray.
Pulse 1 cup pretzel pieces in a food processor until finely ground (to make about 1/2 cup crumbs). Transfer to a bowl and whisk in the flour, baking powder and salt.
Melt the butter in a saucepan over medium heat. Remove from the heat and stir in the brown usgar. Let cool slightly, then stir in the egg and vanilla. Stir the pretzel crumb mixture into the butter mixture in two additions.
Spread the batter in the prepared pan. Scatter the remaining 1/2 cup pretzel pieces on top. Bake until golden and a toothpick inserted into the center comes out clean with a few crumbs, 25-30 minutes. Let cool completely in the pan on a rack, then lift the foil to remove the bars from the pan and transfer to a baking sheet.
Preheat the broiler. Press the marshmallow halves, cut-side down, in even rows on top of the bars. Broil, rotating the baking sheet as needed, until the marshmallows are golden brown, 1-2 minutes. Let cool.
Put the peanut butter cips and 1/2 teaspoon vegetable oil in a microwave-safe bowl and microwave in 30-second intervals, stirring, until melted and smooth. Repeat with the chocolate chips and the remaining 1/2 teaspoon vegetable oil in another bowl. Drizzle the melted peantur butter and chocolate mixtures over the bars. Let harden at room temperature or chill to set before serving.
Sharlene Hensrud, RE/MAX Results - Email - Minneapolis Realtor who cooks