NOTE: I spend my Wednesdays Unplugged from appointments. It's my day to stay home, enjoy cooking and welcome our kids and grandkids for dinner in the evening. We end our meal with quotes from the Norwegian 'Quote Cup' passed on to me from my grandmother. I share a quote and a recipe here each week, and sometimes some photos of family fun. I love trying new recipes...and love getting recipes you would like to share! 
"How lucky I am to have known someone who was so hard to say goodbye to." ~ Unknown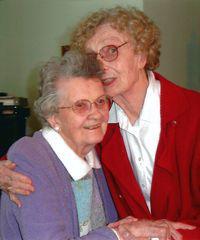 My dear Aunt Lillian died last week... my mother's sister and the third death of those close to us we have experienced so far this year. It was a bitter-sweet trip as we traveled to her funeral to say goodbye to her and embrace other family members. She was a sensitive free spirit with a delightfully dry and quirky sense of humor who often had a a twinkle in her eye that reminded me of their mother. She made me laugh. Her tall stature and elegant beauty always made me think of a movie star. She and my mother sang together when they were young, both on the radio and at nearly every church in town. Throughout her life she enjoyed outstanding music of all genres, from opera and classical to jazz and rock. I will always remember the trips we made together to attend the Metropolitan Opera in New York City and the Des Moines Opera for their summer season. We will miss her. So often deaths seem to come in threes... I hope this means we are done for awhile. It's been a hard winter.
RECIPE OF THE WEEK
I found this week's recipe at reclutantgourmet.com when I was searching for a new recipe to use some of the shrimp stocking my freezer. It comes from Chef Michael Lomonaco, then executive chef for the World Trade Center restaurant, as taught to author Daniel Roth for a 1997 Forbes article And don't forget the saffron.
SAFFRON RISOTTO with SHRIMP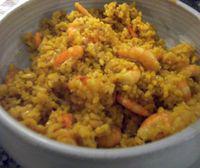 1 cup Arborio rice
1 pound shrimp
2 tablespoons extra virgin olive oil
1 large onion, finely diced
1/2 cup dry white wine
2 1/2 cups chicken stock
2 tablespoons unsalted butter
1/4 cup Parmesan cheese, grated
2 tablespoons heavy cream
1/4 teaspoon saffron
Bring chicken stock to a boiling point and have ready stoveside. In a large skillet heat oil over low heat and saute onions until translucent. Add rice, stir to coat with oil and saute with onions to toast each grain, approximately 7 minutes total cooking time.
Once toasted, remove pan from heat and add wine slowly, stirring with a wooden spoon. Return to heat and add saffron. Once the wine is absorbed add 1 cup chicken stock, stirring occasionally.
Continue adding stock as the rice absorbs the liquid and the pot becomes dry, until all the stock is absorbed. This process allows the rice to expand more fully and should take about 20 minutes. The rice should be a little chewy and creamy.
Add shrimp and cook about 2-3 minutes until done. Add the butter, Parmesan and heavy cream. Stir to combine ingredients and serve.
Sharlene Hensrud, RE/MAX Results - Email - HomesMSP.com
RELATED POSTS
Wednesday's Unplugged - Saffron Rice & Best Baked Carrots
Wednesdays Unplugged - Baked Shrimp Scampi
Wednesdays Unplugged - Bay Scallop Gratin