"Beer is proof that God loves us and wants us to be happy." ~ Benjamin Franklin
NOTE: I spend my Wednesdays Unplugged from appointments. It's my day to stay home, enjoy cooking and welcome our kids and grandkids for dinner in the evening. We end our meal with quotes from the Norwegian 'Quote Cup' passed on to me from my grandmother. I share a quote and a recipe here each week, and sometimes some photos of family fun. I love trying new recipes...and love getting recipes you would like to share!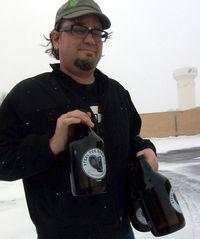 I have never been a beer lover but our son has become a craft beer aficianado. He has been raving about the new Steel Toe brewery in St. Louis Park and brought a limited edition IPA to taste last Wednesday night... so I decided to do a post on it because of all the local beer buzz. I went with him to visit the brewery last Saturday when he went to refill some Growlers. It's fascinating how craft beer is exploding in Minnesota, reminds me of the local coffee shop explosion... part of the movement back to small and local with a personal connection.
RECIPE OF THE WEEK
This week's recipe comes from midwestliving.com. I left out the coconut since I am the only one in our family who likes coconut... I actually liked them better the day after when the flavors had a chance to settle.
RASPBERRY CHEESECAKE BARS
1 1/4 cups flour

1/2 cup brown sugar, packed
1/2 cup finely chopped sliced almonds
1/2 cup butter or shortening
2 8-ounce packages cream cheese, softened
2/3 cup sugar
2 eggs
3/4 teaspoon almond extract
1 cup seedless raspberry preserves or other preserves or jam
1/2 cup flaked coconut
1/2 cup sliced almonds
In a large bowl, combine flour, brown sugar and the finely chopped almonds. Cut in butter until mixture resembles fine crumbs. Set aside 1/2 cup crumb mixture.
For crust, press the remaining crumb mixture into the bottom of a 13x9 baking pan. Bake in a 350 degree F oven for 12-15 minutes or until edges are golden.
Meanwhile, in another bowl beat cream cheese, sugar, eggs and almond extract until smooth. Spread over hot crust. Bake for 15 minutes.
Meanwhile, in a small bowl combine the reserved crumb mixture, coconut and sliced almonds.
Spread preserves over hot cream cheese lay and sprinkle coconut mixture over preserves. Bake for 15 minutes more. Cool in pan on a wire rack. Cool in refrigerator for 3 hours before cutting bars. Store in refrigerator.
Sharlene Hensrud, RE/MAX Results - Email - Twin Cities Realtor Who Cooks