NOTE: I spend my Wednesdays Unplugged from appointments. It's my day to stay home, enjoy cooking and welcome our kids and grandkids for dinner in the evening. We end our meal with quotes from the Norwegian 'Quote Cup' passed on to me from my grandmother. I share a quote and a recipe here each week, and sometimes some photos of family fun. I love trying new recipes...and love getting recipes you would like to share! 
"Too many people overvalue what they are not and undervalue what they are." ~ Malcolm Forbes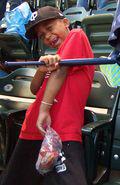 Last Wednesday evening we all went to the Twins game. After a rainy start to the day, it turned out to be a beautiful evening... and the Twins even won, with lots of action!
RECIPE OF THE WEEK
This week's recipe is one which just happened because I wanted to roast potatoes without heating the oven. Everyone loved them so much I decided this was a keeper. I must admit I was surprised at how tasty they were... even better than roasting in the oven. You could add garlic, dill, rosemary, lemon juice... whatever suits your taste. I just liberally salted and peppered the potatoes, dotted them with butter and put them in the microwave!
QUICK ROASTED RED POTATOES
small red potatoes, quartered (1-3 pounds)
butter, olive oil
salt and pepper
garlic, fresh dill, rosemary, etc as desired
Cut small red potatoes (not baby size) into quarters and place in a greased flat glass baking dish. Add garlic if desired. Sprinkle liberally with salt and pepper. Dot generously with butter (1/4 to 1/2 cup, depending on how many potatoes).  Drizzle with olive oil if desired.
Cover loosely and cook on high in microwave 20-30 minutes, checking every 5-10 minutes to stir and check for doneness. Add dill or other herbs last 5 minutes if desired. Potatoes should be very fork tender and a little shriveled.
Sharlene Hensrud, RE/MAX Results - Email - HomesMSP.com