"It is amazing what you can accomplish if you do not care who gets the credit." ~ Harry S. Truman
NOTE: I spend my Wednesdays Unplugged from appointments. It's my day to stay home, enjoy cooking and welcome our kids and grandkids for dinner in the evening. We end our meal with quotes from the Norwegian 'Quote Cup' passed on to me from my grandmother. I share a quote and a recipe here each week, and sometimes some photos of family fun. I love trying new recipes...and love getting recipes you would like to share!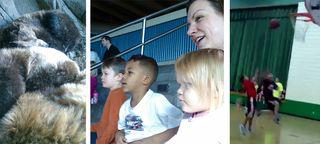 Our ground is finally covered with snow and it feels like winter... temperatures are mostly in the double digits above zero, what I consider ideal winter weather. We had 3rd Friday grandkid sleepover last weekend and saw the bears hibernating at the zoo the next morning... Khalen had his first basketball game that afternoon. I was out showing houses, but I got good reports... not only did he play well but he was also a great team player and good sport!
RECIPE OF THE WEEK
This week's recipe is one I have had in my pile waiting to share for quite a while, was served for a Breakfast Club dinner. In case you haven't already figured it out, we have some great cooks... and it's a great source for delicious recipes! What struck me about this recipe was not only how delicious it tasted, but also how pretty it looked... when plated it looked like the pork chops had top hats!
PORK, APPLE and SWEET POTATO BAKE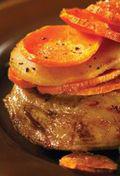 1/2 cup flour
3/4 teaspoon salt, divided
3/4 teaspoon freshly ground black pepper, divided
1/2 cup packed brown sugar
6 thick-cut boneless pork loin chops (about 1 inch thick)
2 tablespoons vegetable oil
4 sweet potatoes, peeled and sliced 1/4 inch thick
3 apples, peeled, cored and sliced into rings 1/2 inch thick
1/2 cup dry white wine
Preheat oven to 350 degrees F. Grease a 9 x 13 baking dish.
In a shallow dish, combine flour, 1/2 teaspoon of salt and 1/2 teaspoon pepper. Dredge pork chops in seasoned flour, coating evenly and shaking off excess. Discard excess flour mixture.
In a large nonstick skillet, heat oil over medium-high heat until hot. Cook pork chops, turning once, for 3-4 minutes per side or until browned on both sides. Transfer to prepared baking dish.
Layer half the sweet potatoes over pork chops. Sprinkle with 1/3 of the sugar. Layer half the apples over sweet potatoes. Sprinkle with another third of the brown sugar. Layer the remaining sweet potatoes, apples and brown sugar. Pour wine over all and speinkle with remaining salt and pepper.
Cover and bake in pre-heated oven for 1 1/4 hours or until just a hint of pink remains inside pork. Uncover and bake for 15 minutes more, or until apples are browned.
Sharlene Hensrud, RE/MAX Results - Email - HomesMSP.com