"Life does not have to be perfect to be wonderful." ~ Annette Funicello

NOTE: I spend my Wednesdays Unplugged from appointments. It's my day to stay home, enjoy cooking and welcome our kids and grandkids for dinner in the evening. We end our meal with quotes from the Norwegian 'Quote Cup' passed on to me from my grandmother. I share a quote and a recipe here each week, and sometimes some photos of family fun. I love trying new recipes...and love getting recipes you would like to share!

Last week at this time we were at Pelican Point, a rental house on the Mendocino coast between Ft. Bragg and Mendocino.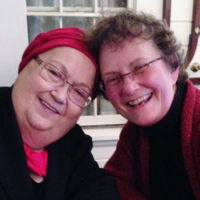 It was fabulous... we would go back in an instant! There were 8 of us having a wonderful time, but the real reason for our gathering was to spend time and create memories with my dear cousin Carole, who was like a sister when we were growing up.
RECIPE OF THE WEEK
Cousin Aleda made a fabulous meal when we were together at Pelican Point. Everyone raved about the chicken and salsa, from an old Better Homes and Gardens magazine from 1992. It was supposed to be grilled, but rain and wind forced us inside... also tasted great baked.
PEANUT-GINGER CHICKEN with California Salsa
MARINADE - marinate chicken overnight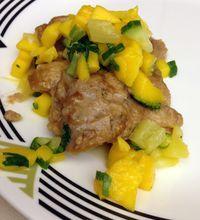 12 chicken thighs (about 3 pounds), skinned
1/2 cup hot water
1/2 cup creamy peanut butter
1/4 cup chili sauce
1/4 cup soy sauce
2 tablespoons salad oil
2 tablespoons vinegar
4 cloves garlic, minced
2 teaspoons grated gingerroot (or 1/2 teaspoon ground ginger)
1/4 teaspoon ground red pepper
Rinse chicken thighs, pat dry with paper towels. Place in a nonmetal bowl and set aside.
Gradually stir hot water into peanut butter (the mixture will stiffen at first). Stir in chili sauce, soy sauce, oil, vinegar, garlic, ginger and red pepper.
Place the chicken in a plastic bag set in a shallow bowl. Pour marinade over chicken. Seal the bag and trun to coat chicken thighs with marinade. Chill for 12 to 24 hours, turning the bag occasionally.
SALSA
1 cup chopped fresh fruit, such as peeled peaches, nectarines or mangoes
1 cup chopped, seeded cucumber
2 tablespoons thinly sliced green onion
2 tablespoons snipped cilantro
1 tablespoon sugar
1 tablespoon salad oil
1 tablespooon vinegar
Combine above ingredients. Cover and chill for 1-2 hours.
Grill chicken over medium heat with the hood lowered for 35-45 minutes... or bake in 375 degree oven. Serve with salsa.
Sharlene Hensrud, RE/MAX Results - Email - Minneapolis Realtor Who Cooks
 RELATED POSTS
Wednesdays Unplugged - Slow Cooker Chicken Tagine
Wednesdays Unplugged - Chipotle-Mango BBQ Chicken
Wednesdays Unplugged - Chicken Marabella
Wednesdays Unplugged - Southwestern Lime Chicken with Ancho Chili Sauce