NOTE: I spend my Wednesdays Unplugged from appointments. It's my day to stay home, enjoy cooking and welcome our kids and grandkids for dinner in the evening. We end our meal with quotes from the Norwegian 'Quote Cup' passed on to me from my grandmother. I share a quote and a recipe here each week, and sometimes some photos of family fun. I love trying new recipes...and love getting recipes you would like to share!
"There's no reality except the one contained within us. That's why so many people live an unreal life. They take images outside them for reality and never allow the world within them to assert itself." ~ Herman Hesse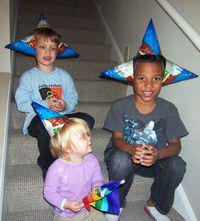 The three little cousins had fun being coneheads last week... their creativity makes me smile. It will be different these next six weeks as Khalen has basketball right at dinnertime... I suppose it's inevitable that more conflicts will arise as the grandkids grow up and everyone gets busier.
RECIPE OF THE WEEK
This week's recipe was made with my husband in mind. It felt like a meatloaf week, but my husband doesn't like foods that have a tomato base... so since he loves green olives I decided to give this recipe a try. It  was a man hit... only complaint was there weren't any leftovers!
OLIVE MEAT LOAF
 3/4 cup milk

1 cup herb flavored stuffing mix
1 1/2 pounds ground beef
1/2 pound bulk pork sausage
1/2 cup sliced, pimento stuffed green olives
2 tablespoons finely chopped onion
2 eggs slightly beaten
salt and pepper to taste
Pour milk over stuffing mix and set aside until the milk is absorbed. Combine all the remaining ingredients and add the stuffing mixture. Combine well. Place in a loaf pan and bake at 350 degrees F for 1 1/2 hours.
Sharlene Hensrud, RE/MAX Results - HomesMSP.com