NOTE: I spend my Wednesdays Unplugged from appointments. It's my day to stay home, enjoy cooking and welcome our kids and grandkids for dinner in the evening. We end our meal with quotes from the Norwegian 'Quote Cup' passed on to me from my grandmother. I share a quote and a recipe here each week, and sometimes some photos of family fun. I love trying new recipes...and love getting recipes you would like to share!
"While we try to teach our children all about life, our children teach us what life is all about. " ~ Angela Schwindt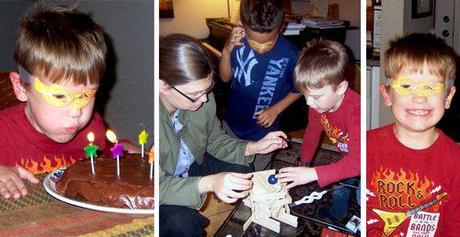 We celebrated our grandson's 6th birthday last week... made a brownie cake, just baked moist, cake-like chocolate syrup brownies in a springform pan. He and his cousin spontaneously made goggle masks which they wore much of the evening.
RECIPE OF THE WEEK
The birthday boy asked for hot dogs on his birthday menu and I came upon this recipe which I remember making as a child. Using high quality ingredients really does make a difference in the taste. They are also fun for kids to make. The recipe called for tootpicks to secure the bacon in place but I didn't need it. The bacon didn't look dark, could maybe have baked a little longer to crisp but we were ready to eat and the bacon was fully cooked and delicious... used high quality bacon with less fat.
MAD DOGS
Good quality hot dogs

Good quality cheddar cheese, sliced into thick slices sized to fit in hot dogs
Good quality bacon
Preheat over to 400 degrees F. Using a knife, make a slit along the length of the hot dog that's about 3/4 of the way through. Cut the cheese into pieces to fit and stuff into the slit. Wrap the bacon around the hot dog in a spiral fashion. Place in a baking dish.
Bake for 11-15 minutes, until bacon is cooked.
Sharlene Hensrud, RE/MAX Results - HomesMSP.com